Essential Listening: Joy Division made their mark on music with two of the most influential rock albums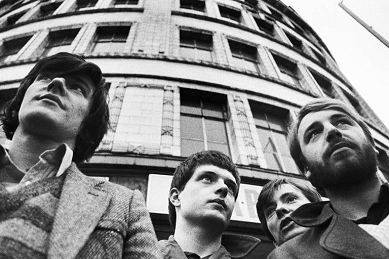 Tired of your Spotify playlists? The Purbalite is here to help with our Essential Listening series.
With their two studio albums, British post-punk band Joy Division made two of the most masterful and influential rock records of all time.
The only studio albums they recorded before lead singer Ian Curtis' death ended the group, Unknown Pleasures and Closer, released in 1979 and 1980 respectively, reflect the troubled genius of Curtis. These records depict his struggles with his mental health and relationships in vivid detail, and they are combined with remarkable, dark production and instrumentation from his band mates.
While everyone may not be able to digest some of their darker tracks, the LPs contain songs with incredible lyrics that paint the picture of a hopeful horror.
"I've been waiting for a guide to come and take me by the hand / Could these sensations make me feel the pleasures of a normal man?" Curtis sings on the opening song of Unknown Pleasures, "Disorder."
These lyrics start the song – a song that ends with an incredible coda of guitar, bass, drums, and lyricism – with a somber yet inquisitively optimistic tone, depicting Curtis' feeling of being an outsider. This tone is carried throughout the track, and to a degree, the entire first album.
This song also shows a trend in the group's music – songs closing with blasting vocals and loud instrumentation. This element can be also seen on a track like "Day of the Lords," where the vocals do not pick up until the back half of the song.
"Atrocity Exhibition," the beginning track of their sophomore album, displays another integral aspect to the band, drummer Stephen Morris. The song offers a hypnotic percussive rhythm that is taken throughout the entire song. 
Morris' drums are also on full display throughout other songs on their second LP, heard on tracks like "Heart and Soul," "Colony," and "Twenty-Four Hours." All of these songs have standout drum beats that lift their respective songs to new heights.
The other members of the band, guitarist Bernard Sumner and bassist Peter Hook, are also integral pieces of Joy Division. Their instrumentation contributes essential elements to the group.
Sumner's riffs on tracks from their first album such as "Interzone" and "Wilderness," and, from their second album, "A Means to an End," give the air of post-punk that some tracks would be without barring Sumner's participation. 
Sumner is also responsible for the synthesizers on second album tracks like "Isolation," "Decades," and "The Eternal." The keyboard elements of these songs show where the band could have gone as Joy Division, and did go as New Order, the group formed by the survivors following Curtis' death. 
"
His [Curtis'] bleak lyrics are joined by engrossing guitar, bass, and percussion that lead to one of the most unique post-punk bands and one of the most sonically fascinating groups of all time."
Hook's bass lines can be heard at full blast and mastery on songs from their first album like "Insight," "Candidate," and most notably, "She's Lost Control," adding to a gothic style that is heard throughout both albums.
The latter track features a bass line that is played high on the instrument, leading to a vibrant sound that creates a panicked tone. Another unique element of this song is the way the bass carries the melody rather than the rhythm.
A noteworthy quality of some Joy Division songs that sets them apart from other groups of the era is the empty and chilling production on some tracks. Songs like "I Remember Nothing" and "Passover," from their first and second records respectively, feature this hollow production.
While many of the tracks in the group's discography only incorporate some elements of the genre, songs like "Shadowplay" and "New Dawn Fades" are pure post-punk.
As a whole, Joy Division provides a gothic, rugged, and intense musical experience. Unknown Pleasures and Closer reflect the life and struggles of Curtis, who by all accounts was a flawed man. His bleak lyrics are joined by engrossing guitar, bass, and percussion that lead to one of the most unique post-punk bands and one of the most sonically fascinating groups of all time.