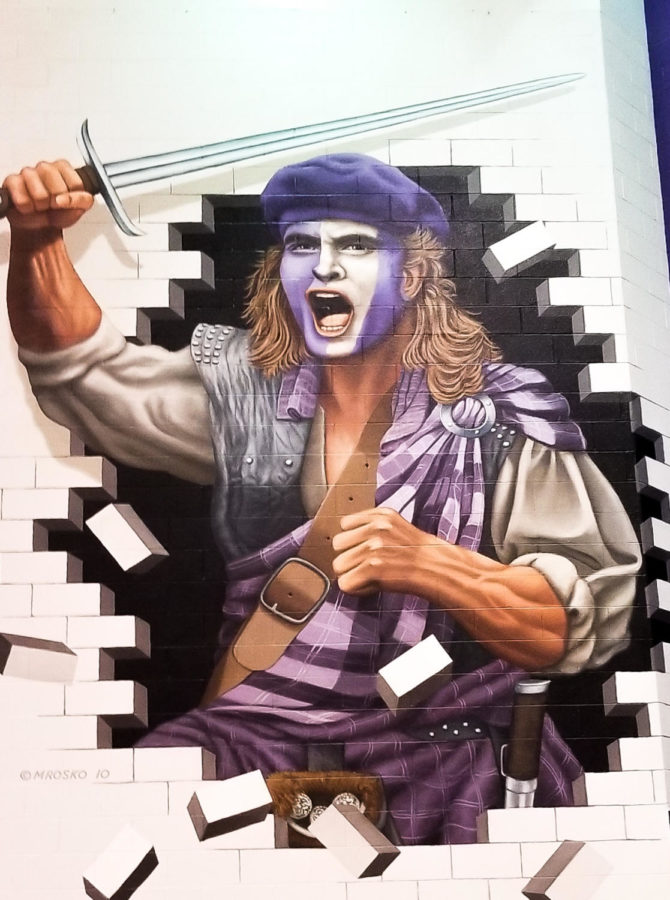 Seniors sign their letters of intent
February 8, 2022
Ryan Bigley
When Senior Ryan Bigley began cheerleading, her goal was to attend a Division I school for cheer. 
She succeeded: Bigley will be attending the University of Delaware to cheer and major in biology. 
"The first time I watched them compete at nationals, I became interested in cheering there," Bigley said. "I visited the campus in the summer and loved it. Then later I went to a clinic and got to meet the coaches and the girls on the team and they were all so welcoming."
Bigely also said the more she watched the team during that visit, the more it felt right.
"I could see the team had a strong bond with each other and that is exactly what I want to be a part of in a college team," she said. "At that moment I knew that is where I wanted to be." 
Bigley feels that after the Highlanders return from their national competition in Disney early next week, the college choice will all feel more real to her.
"We've been so busy preparing for nationals so my mind has been super focused on that," she said.
Blaize Richards
After 11 years of hard work and dedication, senior Blaize Richards has signed to play football for Edinboro University for the next four years. 
Richards is excited to start this new chapter, but the nerves are still there. 
"It is exciting to know that all of my hard work has paid off, but it is scary knowing that I am going somewhere else with 100 other guys aiming to do the same thing," Richards said.
Richards said he has his dad to thank for where he is today. 
"My dad pushed me into football, so I gave it a shot. Now, I would never be where I am without him. He helps me every day," Richards said.
Football has provided many new opportunities and relationships for Richards, and he is grateful for everything it has brought him. In choosing a college, he wanted to make sure he found one that was perfect for him.  
"After going on all my college visits, I felt like it was best suited for me," he said of Edinboro. "I like the surroundings and the people that I was with. It just felt like home."
Alyvia Cox
Senior Alyvia Cox was originally forced to play basketball as a child. Now, she has signed to play Division III basketball at Bethany College. 
Initially, Cox's parents were the ones who pressured her into play. However, she quickly made friends who motivated her to keep playing, and she eventually grew to love the sport. 
"Basketball has taught me many life lessons throughout the years. I learned how to make new friends, things like communication and determination, and what it's like to have a family outside of my own," Cox said. 
Cox visited other schools besides Bethany; however she said that Bethany was the only place she visited that she could envision herself at for the next four years. 
"I'm really excited for the future. I've met some of my  teammates and a new coach and I can't wait to play," Cox said. 
In addition to the excitement of playing at a higher level, Cox looks forward to playing against some former Highlanders.
"I'm excited to play against some of my past teammates, who play at Carlow and Chatham," Cox said. 
Zach Meszaros
Senior Zach Meszaros made his decision to play Division III lacrosse at Westminster College not only for the sport but to further his academic career. 
"I picked Westminster because I felt the most comfortable there and I felt like I was going to get the best education while I am there", Meszaros said. 
Meszaros first started playing in fifth grade. He never guessed that he would love it as much as he does.  
"I never thought going into high school that I would end up loving lacrosse so much that I would want to keep playing in college," Meszaros said. 
As he prepares to head to Westminster, he feels an abundance of different emotions while facing a new environment. 
"I am a mixture of excited and nervous because there are over 40 players on the team, which means it will be more difficult to get playing time. But I am up for the challenge and ready to have a good freshman year," Meszaros said.
Alexa Chapla
Senior Alexa Chapla, libero for Baldwin High School's volleyball team, has been playing volleyball since age 10. After spending so much time in the sport, she knew she needed to choose the perfect college – one that met both her academic and athletic goals.
When Chapla visited St. Francis University, she said she fell in love with their smaller campus and the physical therapy program, to which she received an academic scholarship. She also likes that it is not too far from home. 
Chapla talked to and toured Chatham University and Frostburg State University as well. However, since she visited St. Francis, it has been her top school. 
"I toured and liked both of them, but Saint Francis was the best fit for me," Chapla said. 
Not only does she like SFU for its academics, but she also met the volleyball team there and knew it was the team for her. 
"I love the positive atmosphere and motivation this team has," Chapla said. 
Brookelle Holby
After searching for the right college, Brookelle Holby has found one that incorporates all of her interests.
At Lake Erie College in Painesville, Ohio, Holby will be able to keep playing softball while pursuing a degree in horse therapy, which involves helping people through mental health issues with the compassion and patience of horses.
Along with horse riding, Holby has played softball for most of her life. 
"I've been playing ball since I was like four." Holby said. "I've been playing travel for eight years."
Throughout her sports career, Holby has stayed focused and motivated. 
"Motivation-wise, it was always just because I liked playing." Holby said. "And I loved the girls. I was playing with the same group of girls for like five years."
None of her teammates are accompanying her to Lake Erie, but she's ready for college and new connections. "I did want to play in college the whole time. I knew that young." Holby said. 
Further, Holby has found the campus and college experience that are right for her. 
"I love that campus." Holby said. "It felt like home."
Megan Leary
Senior Megan Leary always knew that she had wanted to play soccer after high school. That dream became a reality when she signed to play Division III soccer at Westminster College. 
Leary started playing soccer when she was 5 years old. Growing up, she always watched and looked up to pro athletes. Leary was confident that she would continue playing in college due to the hard work she had put in to make it happen through her high school career.
"I can't imagine myself not playing soccer," Leary said. When she finishes playing in college, she plans to coach.
 Leary was considering two other schools. She decided on Westminster because the environment there is what she was looking for.
Despite being a little nervous, Leary is excited to show off her skills and prove herself to the rest of the Westminster team.
"I think the level of play is going to be something that will be hard to get used to," Leary said. "Playing with new people is going to be hard, but I'm excited looking forward to the challenges it brings."