Freshman wrestler Islamov shoots to make it to WPIALs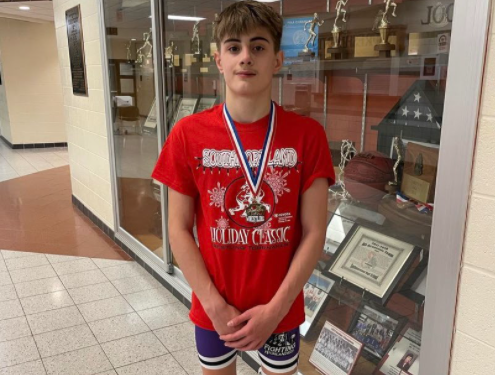 Freshman Ramil Islamov was in the fourth grade and was new to Baldwin when he saw a flier for a youth wrestling team. 
He wrestled through the youth program and then through middle school. Islamov, who also has prior experience with MMA and boxing, joined the high school team as a varsity wrestler this year as a freshman. 
Wrestling is a big part of Islamov's family life. His dad is interested in sports and had always encouraged him to go into wrestling. Islamov himself often gives pointers to his younger brothers, who are also wrestlers. 
Islamov said he enjoys being one of the Baldwin varsity team's younger wrestlers. 
"I like it because as a freshman, I have nothing to lose and even if I do lose, I have an excuse," he said. 
But as a freshman on the varsity team, he is under a lot of pressure. His age, though, makes his achievements more impressive. 
"I'm not necessarily scared for matches, but I do get nervous sometimes," he said. 
Keith Mincin, a fellow member of the wrestling team, said Islamov contributes significantly to the team. 
"He's a freshman who's ranked No. 7 at his weight right now. Not many freshmen are capable of doing that," he said.
Due to the pandemic, Islamov did not get to experience a wrestling season last year. Even with this setback, he has continued to improve as a player. 
One of his biggest advantages, he said, is his stamina. 
"I would say I have good stamina since I don't get tired very easily," he said. 
Islamov believes that his most memorable match came when he beat an opponent from Connellsville. In the past, this opponent had defeated him, but Islamov managed to get the win at one of his most recent matches.
"
It's going to be a close fight but I think I can make it into the top four
— Ramil Islamov
Islamov is now preparing for WPIALs. 
"It's going to be a close fight but I think I can make it into the top four," he said. 
Teammate senior Cody Randal believes that Islamov has the potential to reach states. 
"He's been able to beat some really good wrestlers and I wouldn't be surprised if he went to states. If he doesn't make it this year, then he definitely will next year," Randal said.