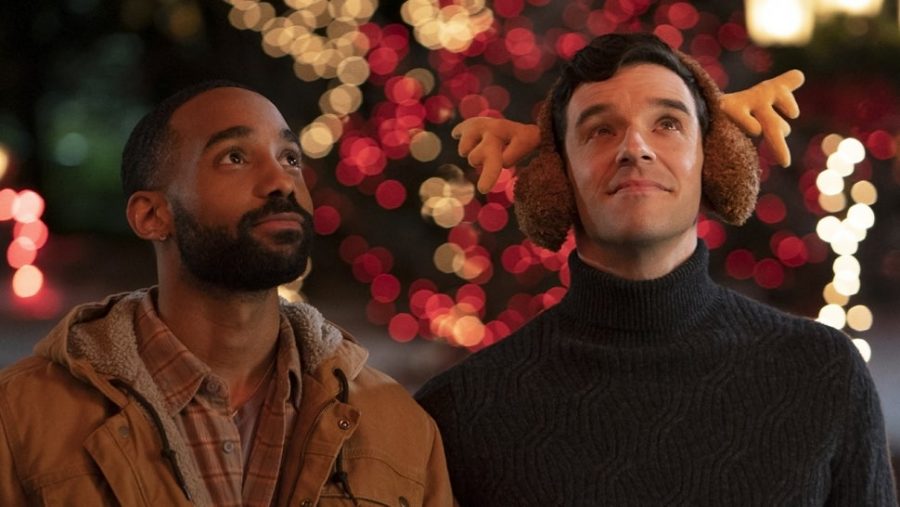 Image via: Entertainment Tonight
The 17 School Days of Christmas: Netflix's first holiday gay rom-com brings the cheer
Netflix's first holiday gay rom-com, Single All the Way, incorporates the perfect amount of holiday cheer, love, and comedy all into one. 
The movie follows the main character, Peter, a workaholic living in Los Angeles, who is infamously known by his family as having an unsuccessful dating history. With a recent heartbreak and his annual trip back home to New Hampshire for Christmas coming up, Peter concludes that he must come home with a boyfriend, even if it's just a pretend one. 
Coincidentally, Peter's best friend and roommate of nine years, Nick, is perfect for this role, and Peter convinces him to be his fake boyfriend. Although Nick is reluctant to follow Peter's seemingly disastrous plan, he gives in and travels home with Nick for the holidays. 
Peter's family adores Nick and believes the two are perfect for one another. However, Peter is quite apprehensive when it comes to their relationship. Once he is home, Peter meets James, his mother's pilates instructor, and the two hit it off immediately. 
With Single All the Way, Netflix successfully captures the struggles people of the LGBTQ+ community face in the dating world, especially with the concepts of queerbaiting and stereotypes. 
Characters such as Aunt Sandy, played by Jennifer Coolidge, and Carole, played by Kathy Najimy, do feed into the stereotypes the media creates regarding gay people specifically, such as they are theater and crafting experts. 
The eccentricities and slight ignorance of both Aunt Sandy and Carole provide most of the comedy within the movie and add to the light-hearted mood. Although some of the comedy slightly caters toward millennials, for the most part, the humor is enjoyable for all generations of viewers. 
Furthermore, the actors who play Peter, Nick, and James are gay in real life, so LGBTQ+ viewers receive representation and recognition in the media. 
The director, Tony award winner Micheal Mayer, and screenwriter Chad Hodge both have a history in the theater industry and smartly incorporate it into the plot. Additionally, Mayer is openly gay, so the accuracy of the struggles Peter, Nick, and James face are further amplified. All in all, Single All the Way is the go-to movie for viewers craving holiday cheer, light-hearted humor, and a dash of romance.