Alum Jack Hillgrove follows the path of his grandfather in journalism
While Class of 2017 Baldwin alum Jack Hillgrove shares a last name with his grandfather – legendary Pittsburgh sports broadcaster Bill Hillgrove – he owes much of his success to his own ambition and skills.
In his job as a multimedia journalist for WTOV Channel 9 in Steubenville, Ohio, Hillgrove has to do the work of both a cameraman and a reporter. He covers all sorts of stories – from local sports to features to community news coverage. 
On Fridays, though, he gets to work on the station's weekly high school football recap, focusing on a sport he enjoys a lot.
He partly owes his love of football and journalism to his grandfather Bill, who calls games for the Steelers, as well as Pitt football and basketball.
"I was fortunate enough at a very young age to be exposed to broadcasting," Hillgrove said. "I was 8 years old, and it was the first time (my grandfather) brought me into the radio booth during a Pitt football game, and I have been in love with the profession ever since."
He even started working as a spotter, an aide to the play-by-play commentator at sports games, for his grandfather that year. 
Years later, in his sophomore year at Baldwin, Hillgrove started writing for the Purbalite. Soon after he became sports editor.
 "Writing journalistically – learning how to write a news and sports story – was huge because it laid the groundwork for me to be able to expand on that skill in college and ultimately land me the job I have right now," he said.
Assistant Principal John Saras witnessed Hillgrove's devotion to journalism from middle school through high school.
"Jack was interested in all aspects of the reporting world. You could tell early on he had a passion," Saras said. "When he made it to high school, you could see the interest grow. You could tell this was something that he was going to pursue."
The event that Hillgrove ultimately credits with furthering his dedication in journalism and leading him to his current job at Channel 9 is a sports broadcasting camp he attended at Waynesburg University in the summer before his junior year of high school. 
"Not only did it affirm my passion for sports journalism and journalism as a whole, but it also gave me a strong idea of where I wanted to go to college to pursue that, and it was Waynesburg University," Hillgrove said.
At Waynesburg, he gained crucial experience for his future endeavors into journalism, like being the sports director of the student radio station and being the executive director of the sports network there. In his time at Waynesburg he won an award for excellence through his sports talk show, along with being an on-air talent for the student TV station.
"All of it – not just being on the camera, but being a producer and operating the camera – it all just reaffirmed my love for journalism," he said. 
One memory he cited at Waynesburg came from the fall of his final year, when he put on the biggest sports production of his college years. The production, the first one after sports resumed following the height of the Covid-19 pandemic, was important to him because it gave his college friends, who were graduating in December, a final production of their college career.
He said this production was particularly difficult, citing logistical delays and issues with their production truck.
"A lot of things could have gone wrong, but they didn't," he said. "To be able to do that for my friends one last time before they graduated was incredible."
While he doesn't necessarily directly attribute his success to his grandfather, Hillgrove does note important skills that he picked up from Bill Hillgrove along the way. He said his grandfather has a generosity that extends throughout his life, including always tipping well and taking the time to talk about sports with pizza delivery drivers.
"My inspiration from him is not only being a hall of fame broadcaster, but also a hall of fame grandfather and person," he said.
During his fourth and final year at Waynesburg, Hillgrove took a job with 93.7 The Fan, a sports radio talk show in the Pittsburgh area. 
He credits this first professional job in journalism with helping him to get where he is now. When he was hired for The Fan, he immediately got training on how to produce shows, allowing him to continue to have consistent work throughout the pandemic.
"I was able to actually do something during the pandemic instead of sitting at home," Hillgrove said.
Ultimately, he moved on from that job to accept a position in front of the camera instead of producing the show behind it.
"I miss it sometimes, but it was one of those moves I had to make as I was behind the camera there, and I was offered a job in front of it," he said.
"
My favorite part of my job is meeting people, whether it be on a sports story or a news story. I'm making connections and meeting people, and building relationships across the Ohio Valley
— Jack Hillgrove
Working at Channel 9 now, Hillgrove said he enjoys the connections he makes with the people of the community.
"My favorite part of my job is meeting people, whether it be on a sports story or a news story. I'm making connections and meeting people, and building relationships across the Ohio Valley," he said.
Seeing the passions of the community and getting to share the stories behind them has been eye-opening, he said.
Hillgrove cited a particular story that he covered – one detailing a couple who grew a world-record squash – as a story he was glad the public got to hear about.
"I knew about Todd and Donna Skinner going way back. They're great people, and I'm glad the public got to see their story," he said.
He also really enjoys his co-workers. Along with supervisors whom he admires and respects, Hillgrove works with his two best friends from college, Ed DiOrio and Dylan Cleland.
Working with his best friends only an hour away from home is something he is very grateful for.
"Not a lot of people who start in television right out of college can say that they live only an hour away from home, can go home whenever they want to, and work with their two best friends from college. I have all three of those things at my disposal," Hillgrove said.
The people around him contribute to his love for his job and his love for journalism as a whole. 
"It's scary to drop everything and move an hour away from home, and have to pay bills, and be responsible on your own. The relationships I have with the people I work with professionally and personally have been great," he said.
Even with his long-standing passion for journalism and broadcasting, extending all the way back to his days doing fake play-by-play over sports video games and real sports games in his youth, Hillgrove doesn't think that journalism necessarily comes naturally to him.
"If you think journalism comes naturally, you will get passed up, and no matter how much I might think journalism comes naturally to me, I know that I have a long way to go," he said, "If I want a job 10 years down the line, I have to work my tail off. I have to continue to hone my skills."
His grandfather agrees.
"I think I helped (Jack) by example, and I don't think it hurts to have my last name, but you still have to do the job, and he's proven by his work so far that he has what it takes," Hillgrove said.
His grandfather shared the advice he has given to Jack as well as any young journalists.
"I will always tell young people to be themselves, and the biggest mistake you can make is trying to emulate others. You can learn from what these people do, but you have to make it your own, and Jack has done that,' Hillgrove said.
He believes that his grandson has put in the work to become a good broadcaster, with a bright future in store for him.
"It's just natural that if Jack pays his dues, and does his job well, and puts together a good digital resume, that someone at a bigger market will want him," he said. 
In his future, the younger Hillgrove does want to continue to get better, moving up the ladder in broadcasting and reporting, but with no particular job in mind.
Even though Hillgrove has had a passion and affinity for journalism since his younger years, he doesn't think that will ever fade away.
"The strive to get better, and the strive for perfection, and the drive to be great will always burn in me," Hillgrove said.
View Comments(1)
About the Contributor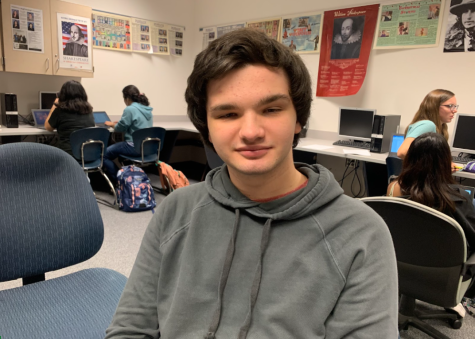 Sam Tobiczyk, News Editor
News Editor Sam Tobiczyk is a senior and a third-year member of the Purbalite. In their free time, they can be found listening to indie music or watching...