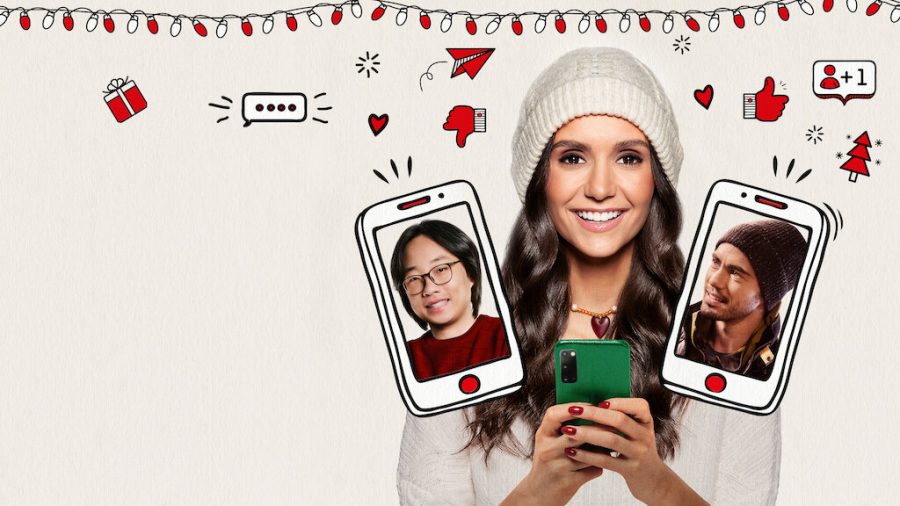 The 17 School Days of Christmas: Rom-com `Love Hard' appeals to young teens
The Netflix original Love Hard is a mediocre attempt to show the true meaning of love through the spirit of Christmas.
The movie focuses on journalist Natalie Bauer, played by Nina Dobrev, and her complex love life. In hopes of finding a boyfriend, she joins a variety of dating websites, none of which work out. Her luck with local men results in her getting stood up, lied to, and more. 
With her best friend's support, Natalie begins to look for a long-distance relationship, eventually finding Tag, who seems like the ideal man. When Tag hints that he wants to spend the holidays with her, Natalie decides to surprise him by flying from L.A. to his home in Lake Placid, New York. After getting there, however, she learns that "Tag" is actually Josh Lin (Jimmy O. Yang), an introvert who is living in his parents' basement, using pictures of his childhood friend to catfish her because of his insecurities. 
Love Hard, rated TV-14, has a perfect plot to appeal to young teens, as the plot and characters are far too simple for many adults to enjoy due to its predictability. It emphasizes the idea of honesty and shows that love is based on more than just appearance alone. 
Aside from the flaws in the plot in the movie, Natalie's character is a bit unlikable at times, being so obsessed with the idea of finding true love that she is willing to disrespect herself. Josh, however, brings an element of humor, lightening the strangeness of the situation.
This Christmas rom-com may not be for everyone, but it is a solid choice for anyone looking for a lighthearted, modern holiday movie with a happy ending.