Student's petition seeks change in hat rule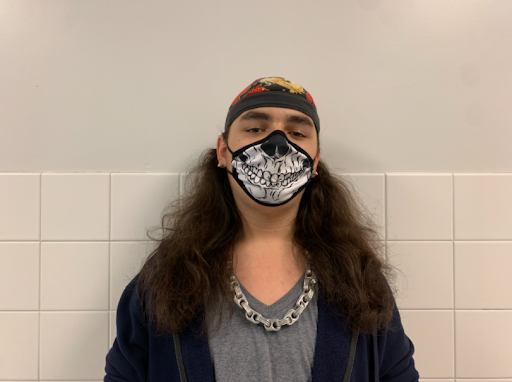 Junior Chrisjan Mathews has gathered around 300 signatures from high school and middle school students, seeking to eliminate the school's ban on wearing hats or hoodies in common areas of the school.
But Principal Shaun Tomaszewski, who has yet to see the petition, does not think the rule will be changed. 
For Mathews, the issue is straightforward.
"As long as (the hats) aren't overly large or distracting, I don't see what the issue is," he said.
Mathews is known for wearing a bandanna around his head every day, which he said raises the question as to why he can wear that but not a baseball cap. 
"I don't see what the difference is between me wearing this or me wearing a hat. They are both harmless forms of expression," Mathews said. 
Tomaszewski said he is pleased that students are advocating for what they believe in. 
"I am totally supportive of any opportunity for student agency to expand," he said.
In fact, back when he was in high school, Tomaszewski started his own petition drive, he said. He advocated for a later time for school to start. Though he got many signatures, nothing came of his efforts. 
Tomaszewski said the hat and hoodie rule was influenced by other districts and the faculty. A survey was sent out asking Baldwin teachers about their thoughts on hats and hoods in school. Some teachers think they are disrespectful or not appropriate in school, while others do not have a problem with it, he said. 
Safety also plays an important factor. Hats and hoods obscure students' faces, which pose an issue when students need to be identified, he said. 
Junior Dillon DiGiannurio signed the petition and carries a copy of it.
Hats "are nice to have, and for me personally, I don't want to do my hair sometimes," DiGiannurio said. 
He said he does not think that wearing hats affects learning in school, and he wishes that teachers were more consistent with the rule. 
Sophomore Jesslyn Linden also does not see why wearing hats is a big deal.
"I think wearing hats doesn't affect our learning, so we should be able to wear them if we want," she said.
Liden also said there are frequent inconsistencies with the way that teachers enforce the rule.
"Some teachers allow us to leave our hoods on anyway," she said.