Essential Listening: Go beyond The Wall with Pink Floyd's Meddle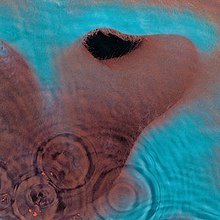 Tired of your Spotify playlists? The Purbalite is here to help with our Essential Listening series.
Pink Floyd's Meddle is the band's sixth studio album and is criminally underrated. 
Meddle is an acoustic and laid-back album compared to the band's later works, such as The Wall, which has a dark and harsh atmosphere. Meddle is an album to be enjoyed on a hot summer day.
The album's first song, "One of These Days," is a foreboding song with excellent electric guitar work by David Gilmour. The song's only lyric is, "One of these days, I'm going to cut you into little pieces." While this somewhat ominous song may lead listeners to believe that the rest of the album may resemble some of the band's other works, the next song, "A Pillow of Winds," takes it in an opposite direction.
"A Pillow of Winds" is a song about sleep, love, and tranquility. Gilmour sings, "Sleepy time, and I lie with my love by my side." This is one of the few songs in Pink Floyd's discography that mentions love, so it makes the tone of the song happy and peaceful.
The next song, "Fearless," is one of the band's best songs and an optimistic song about overcoming obstacles and persistence throughout life. The acoustic work by bassist Roger Waters is masterful.
The following song, "San Tropez" is a summery-sounding song about the French town San-Tropez. The second to last song on the album,"Seamus," is the black sheep of the album and Gilmour simply sings of a dog named Seamus.
The final track, "Echoes" is nothing short of a masterpiece. The song is 25 minutes long and every minute is an important part of the song. The guitar work by Gilmour is passionate and spacey. The vocals are also mysterious and smooth. 
The song is separated into four sections and it makes up about half of the album. There is the introduction, which is one of the highlights of the song. This is followed by a jam section, which is when the band lets their musical talent flow. 
Next, the experimental section, which is composed of ominous noises, provides an interlude between the best parts of the song.  Finally, the conclusion section resembles the introduction of "Echoes" and allows the album to end in the best way possible.
Meddle is an emotional album that presents contrasting moods to the audience, allowing a broad spectrum of feelings to come through the music. While it is not the band's most popular album, it is certainly one of their greatest works.
About the Writer
Elias Olexa, Staff Writer
Staff Writer Elias Olexa is a sophomore and a first-year member of the Purbalite. When he isn't listening to Pink Floyd, he can be found running, spending...