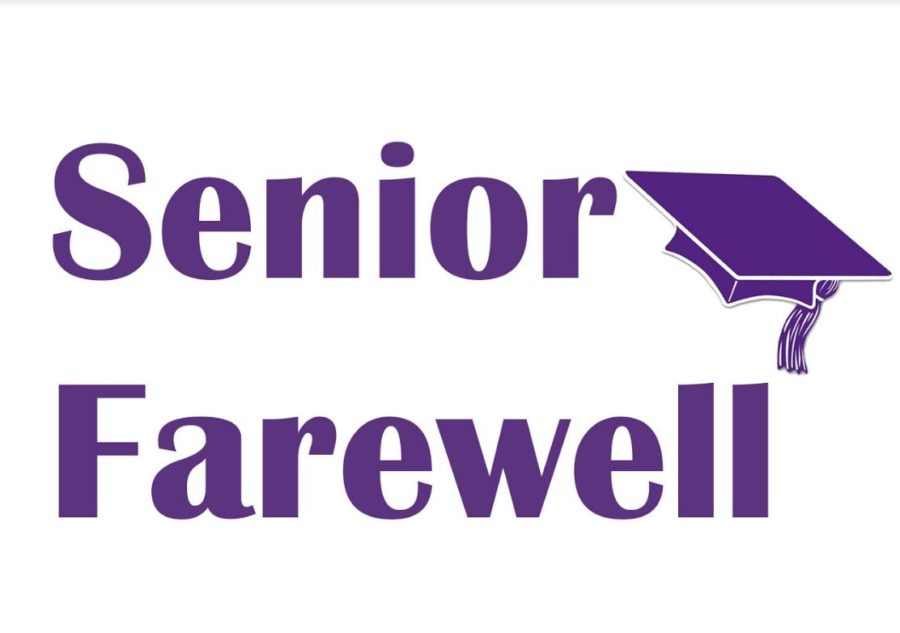 Senior Farewell: How you spend your high school years can make them unforgettable
High school is truly what you make of it. You get to choose what kind of experience you want. For me, I chose to get involved. Joining clubs and activities provided me with opportunities to be engaged in my school community and meet new people. Joining meaningful and worthwhile activities can help make high school more memorable and enjoyable. 
My high school experience consisted of more activities than most. I cheered on both the sideline and competitive cheerleading teams and played varsity girls lacrosse.  In addition, I participated in Mini-THON, Literary Guild, Special Olympics, NHS, math league, yearbook, the Purbalite, and senior class executive board.  While it sometimes was a lot to handle, I participated in these activities because I truly enjoyed them. I never joined something for the sake of impressing colleges or trying to create a better resume; rather I selected activities that I wanted to be a part of. 
While every single activity affected my life in positive ways, Mini-THON, cheerleading and Special Olympics truly formed my high school experience.
I attended the very first Baldwin Mini-THON and was a member of the first executive board. Mini-THON is an overnight event that raises money for pediatric cancer.  When I first joined, I thought it would simply be a fun night with my friends, but I quickly realized that it was much more. It was so amazing watching over 100 students and teachers work together to raise money for a great cause.  
This year, I was especially excited for Mini-THON, as the executive board set goals to beat our previous years' records. Months of planning, fundraising, and virtual meetings all led up to our big night — when just a week before the event, we learned that it had to be moved to an online platform.  Out of every cancellation, postponement, or event loss of the year, Mini-THON was the most disappointing. After hearing the news, many of us were concerned that we would not be able to reach our fundraising goal, but we kept our hopes alive and planned the best virtual event possible.  When at last the night had come, it was surreal seeing all of our students' faces across our screen. Even though we were virtual, we were excited that all of our hard work was paying off.
I watched the live stream of our fundraising reveal from my seat on a bus that was taking me, along with the rest of the cheer team, to the state competition in Hershey.  It certainly wasn't the way I planned my senior Mini-THON to go, but I am so grateful for the experience.  Finally, I watched as our fundraising total — $25,126 — flashed across my screen. Tears of joy filled my eyes as I realized that we surpassed all expectations and set our all-time fundraising high.  From attending the first Mini-THON to watching my final one from a screen, I realized that this event is now a part of my legacy at Baldwin High School. I, along with the other executive board members and teachers, spent countless hours over the span of three years to create such a successful organization and event. I am so grateful to have contributed to the program that is now my mark on Baldwin, and am excited to watch it grow in the future years.
In addition to Mini-THON, I also cheered on both the high school and sideline teams. Cheerleading gave me my second family while allowing me to participate in a sport that I love.  It taught me the value of hard work, grit, and dedication. 
Cheer wasn't always easy. My freshman year I did not make the mat competition team. Instead, I competed on gameday, where I worked hard and improved for the next season. When I made mat my sophomore year, it was even more rewarding because I knew everything I had done the past season had finally paid off. Cheerleading taught me to continue improving, even after I reached my goals. I learned how to overcome obstacles and adversity, skills that I continue to use.
My experience in cheer was primarily formed by the girls on the team, along with my coaches. While yes, I enjoyed ranking third in the nation and winning a WPIAL title, I am especially grateful for the relationships I formed while a member of the Baldwin cheer program. Whenever anything in life went wrong, cheer was my escape, and my coaches and teammates were always there to support me.  I am forever grateful for what Baldwin cheer has given me, and I can't wait to use the skills and lessons I learned next year when I cheer in college. 
I have also been a member of the Special Olympics club since my freshman year. After coming from a small middle school, I had never heard of Special Olympics or Partners classes before.  Once I entered high school, a friend told me to join and so I did. Little did I know how much I would learn from the club.
Special Olympics gave me the opportunity to create new friendships with students I had never met while genuinely having fun at sporting tournaments and events. I attended events such as the Summer Games and the bocce extravaganza, and participated in this year's Polar Pop, a COVID friendly adaptation of the Polar Plunge.  It was amazing to be surrounded by people who cared so much about each other, even when we got competitive. 
Special Olympics taught me the importance of inclusion and kindness, lessons that will last for many years to come. It allowed me to create relationships that I will cherish forever and I was so lucky to be involved in the organization.
These three student activities, along with many others, shaped my high school experience. Recently, a fellow student asked me if taking on so many activities and responsibilities was "worth it," and I truly believe it was. I was given so many unique opportunities, experiences, and memories that made my high school years meaningful. By engaging in activities that meant something to me, nothing ever felt like an obligation or requirement because I wanted to participate.  After these past four great years, my biggest piece of advice to underclassmen will always be to get involved, and I promise it will be worth it. (Also join the Purbalite — best decision ever).