Belak, Buys recount close escape from Green Bay shooting incident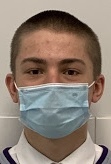 Senior Dylan Belak was at a team dinner in a Green Bay, Wis., hotel after the last day of a USA Hockey tournament when his dad came into the room yelling. Dylan and his Pittsburgh Predators teammates thought he was going to be in trouble. 
But then Dylan heard his father shout the words "active shooter" and "get out," and he knew it was far more serious.
"Nobody had heard (the shots) in the room," Belak said. "Everyone couldn't believe it."
All told, two people were fatally shot and another severely wounded in the restaurant of the hotel in the incident. The gunman was later killed by police.
Dylan's father, Mike Belak, had been waiting for an elevator in the lobby of the Radisson Hotel when he heard gunshots coming from the bar area. The retired police officer and former National Guard officer said his first thoughts were, "Is that what I think it is?"
Realizing there was a shooter in the bar, he ran to the conference room where his son and his team were eating. He called out to them, instructing everyone to leave through a hallway away from the shooting as quickly as possible.
"
I just got up and grabbed my mom and we ran as fast as we could, as far as we could."
— Nelson Buys
"I ran out and to the right, down the long hallway and into the parking lot," Dylan Belak said. "My adrenaline was rushing. I swear I got out of the hotel in a matter of two seconds."
"I for sure think of my dad as a hero," he said.
Junior teammate Nelson Buys said his first thought when he heard that there was a shooter was not of himself, but of his mother, who was also in the room.
"I just got up and grabbed my mom and we ran as fast as we could, as far as we could," Buys said. "I was really worried about her. I didn't want anything to happen to her."
While Belak and Buys were among the first ones out the door, about a third of the team had to break a conference room window with a chair to escape. In the parking lot, the team hid behind a tour bus.
"One point when we were in the parking lot, Dylan turned to me and said, 'How are we right here? Right now?' " Mike Belak said. "I thought that statement kind of summed it up."
Even in the parking lot, they could still hear more shots being fired, so they ran into the casino next door. Police arrived soon after. The Belaks recounted hearing about 30 shots being fired in the shootout between the police and the gunman.
"It was hard to process," Dylan Belak said. "I just wanted to make sure I was as far away from the gunfire as possible."
The next day was hard for the team, he said. 
"It was one of the scariest moments of my life, and as a captain on that team, I made sure everyone was mentally and physically okay the day after," he said. 
Reflecting upon the event, Belak and Buys agreed it was an eye-opening experience. 
"It's still pretty active in my mind," Buys said. "The thought of having to go to a hotel again on vacation is weird."
"Green Bay, a quiet town in Wisconsin, was such a peaceful place to be and then the shooting happened. It truly shows how it can happen at any time and anywhere," Belak said. "God chose my team for a reason to stay unharmed. It was a wake up call for me to cherish life's every moment."