Ice hockey team celebrates state title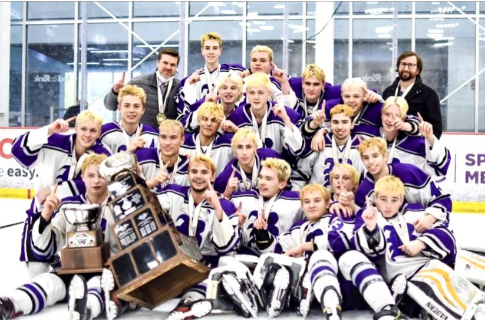 For the first time since 1988, Baldwin's ice hockey team has won the state championship.
Baldwin varsity ice hockey team finished off its season by defeating the Haverford Fords 4-1 in the 2021 Class AA Pennsylvania State Finals on Saturday.
Junior Trevor Belak scored twice for the Highlanders, with senior Keith Reed and junior Logan Picchi scoring as well. Junior goaltender Eddie Nowicki stopped 27 of 28 shots he faced. He has a 97 percent save percentage in the postseason. 
The Highlanders never found themselves trailing in the state championship. Their win came just days after the team won the Pens Cup — all of which made for an amazing finish to the season, players said. 
"It felt amazing," Reed said. "The boys worked hard and we knew we wanted to win the Pens Cup and states and we did just that. … Winning the state championship is the best way to finish my high school career and cement our legacy in Baldwin history." 
Nowicki said that while it was great that he was able to step up and only allow four goals this postseason, it was a team effort. 
"It feels amazing, but a lot of credit goes to the defense," Nowicki said. "They played great all year and really stepped up, especially in the playoffs, with keeping the front of the net empty and letting me see the pucks." 
Last year, the Highlanders made it to the finals of the Pens Cup, but it was canceled due to the pandemic.
"Both years we have all been determined to win and jump on any team early in a game," Picchi said. "Whether it is carpooling, going out to eat, or just being at practice, we are always bonding and being with each other." 
Picchi said one difference between this year's team last year's is the depth of the squad.
"We were able to run our four lines and produce points," Picchi said. "We worked as a team and we won the Penguins championship and the state title."