What to Binge Watch: From Me to You offers cute school romance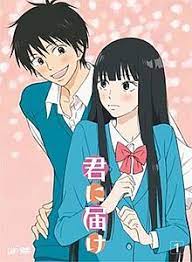 Anime fans who enjoy the romance genre would enjoy watching Kimi ni Todoke, an adorable school romance that will warm everyone's hearts. 
Kimi ni Todoke, or in its English title, From Me to You, aired in 2009. Anime was not as mainstream or popular as it is back then, so the show never gained as much popularity as it deserved. The show is now available on Hulu and Crunchyroll. 
The show follows the story of an unpopular girl known for her gloomy appearance, Sawako Kuronuma, and a cheerful, bright and popular boy named Shouta Kazehaya. As soon as they meet, Sawako admires and is envious of Kazehaya's ability to get along with others. 
The high school setting makes it very relatable to a teenage audience as everything the characters experience feels very real. It's a classic romance with cliche tropes, but the show's characters will make the viewers fall in love with it regardless.
The complications of high schoolers pursuing a relationship are also well explored, and the viewers get to watch the characters as they navigate their way through friendships and relationships. 
Anyone looking for a cheesy but enjoyable show with a wonderful array of characters will definitely enjoy Kimi ni Todoke.