Concrete Cowboy puts spotlight on Black cowboy culture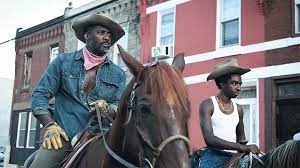 Typically, cowboy films are dramatized and set in the "Old West," with fiction playing a huge factor in the setup of the story. Netflix's new movie Concrete Cowboy, though, brings a new reality to the cowboy genre and introduces a history unknown to many.
The movie follows Cole, a delinquent teen with a troubled home life. After his expulsion from school, his mother drives him to Philadelphia to spend the summer with his father, Harp. 
When he arrives in the city, he meets a group of Black cowboys. The story follows his development with his father, immersion into cowboy culture, and the constant threat that jeopardizes their way of life. 
The movie has an excellent cast, involving some real cowboys who are a part of the Philadelphia Fletcher Street Riders. Fletcher Street inspired the novel Ghetto Cowboy, written by Gregory Neri, which was the movie's source material.
The movie has cinematography that immerses viewers into their world. It feels as though viewers are walking around the town with Cole, but not in a home video way. The film excellently uses lighting to convey the mood of scenes and has some beautiful shots.
There are multiple references to destroying culture, which is one of the conflicts of the movie. Today, there are many places that hold cultural significance that are urbanized and demolished. The movie addresses how the people who live in those places feel.
It can open the viewers' eyes to something they might not have been aware of.
Overall, the movie manages to introduce a topic that not many people know about in an intriguing and engaging way that captivates audiences.
About the Writer
Leila Usanovic, Staff Writer
Staff writer Leila Usanovic is in her first year on the Purbalite. In her free time, she can be found hanging out with her dog, Aussie, chatting with friends,...