Deadly Illusions a flawed but enjoyable thriller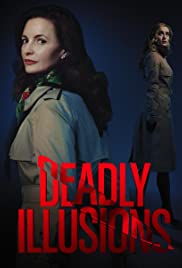 Fiction and reality become a blur when an author returns to writing and hires a nanny to watch her children in the new film Deadly Illusions.
Mary Morrison, played by Kristen Davis, is asked to return to her writing days. When she does so, she needs someone to watch her kids, so she hires Grace, played by Greer Grammer. When she begins to write, things start to go wrong.
This movie is a thriller and also has dramatic moments. 
When Morrison attempts to start writing, she experiences writer's block. When things start to go wrong, fiction and reality get blurred.
Like most films, this film does not go without flaws.
Although the film is thrilling, the plot could be defined as basic. An example of that would be that Morrison's husband loses a bunch of money, which is why she returns to writing in the first place. This conflict is vague and does not give the viewers enough information.
Another flaw to this film could be the title, Deadly Illusions. There really are not any deadly illusions in the film, so the title could be described as generic or senseless.
Although Deadly Illusions certainly isn't the best film on Netflix, it still proves to be enjoyable and thrilling to watch.