Puppetry expand offerings from Chill Room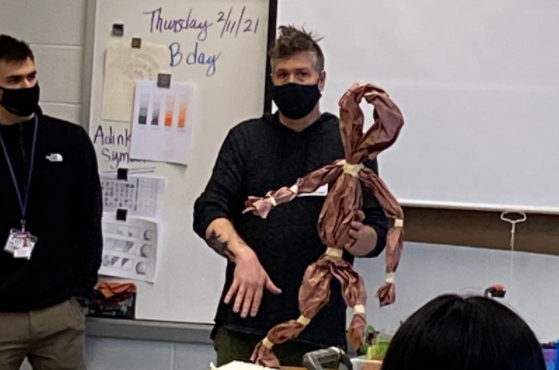 As another new way to encourage stress-relieving and mindfulness, the Chill Program has launched a new expressive art therapy program — puppeteering.
As a program for seventh- and eighth-grade students, it aims to help students learn to creatively express their trauma and feelings.  
The seventh- and eighth-graders can participate in this program during their lunch period in the Chill Room. It was introduced to all students in both grades during their lunches. Kids in these grades can choose to participate, but they are not required to do so. 
Students first build their own puppets. This program takes place in the Chill Room, with the average session being about 40 minutes long. Students are free to make their puppets however they choose. 
The Chill Program's main expressive arts therapist, Greg Chaffee, is joined by master puppeteer Matt Acheson for the eight-week project.
"Our goal is that we talk about puppeteering techniques that also help with mindfulness and bring new ways of collaborating," Acheson said. 
Acheson has been in the puppet industry for over 20 years, even creating props for Broadway productions. The biggest show he has done is a production called War Horse that utilized several life-size horse puppets and tells the story of the tragedies and isolation of WWI. 
Acheson has also designed, built, and directed the puppets for a production of On The Town, where sailors on leave experience New York City and end up in the Natural History Museum, where a giant T-Rex skeleton comes to life. 
He believes that students can use the puppets as a way to navigate their own stories of trauma and pain. 
The program will wrap up with a puppet dance competition at the end of the eight weeks to see how much the kids have learned and which puppet has the best dance moves.