Kings of Leon's new album fails to impress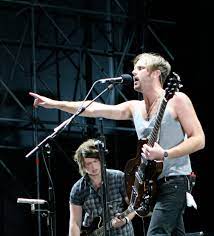 Kings of Leon's new album, When You See Yourself, is a generic and forgettable album.
The album is simply not interesting, with many songs being indiscernible from others. In previous albums by the band, like Walls or Mechanical Bull, there are clear standout songs like "Waste a Moment" and "Supersoaker," respectively. 
But when fans are done listening to this album, they will not find a single song that needs to be heard again. Some of the most listened-to songs on the album, "The Bandit" and "Stormy Weather" sound basically the same. 
Even when the album tries to slow down the pace of their songs, on tracks like "100,000 People" and "Claire & Eddie," the slower pace seems boring, not relaxing or heartfelt like most slow songs try to be.
And on faster-paced songs like "Stormy Weather" and the opening song, "When You See Yourself, Are You Far Away," the songs seem cluttered and messy rather than intense.
The lyrics are also forgettable. They seem to only exist for the purpose of having lyrics, rather than giving the song a deeper meaning or making it entertaining.
Another quality that contributes to the blandness of the album is the overproduction of each song. There are no small inconsistencies or errors that might add flavor to an album, or even make it better.
While the album is mostly unremarkable, there are songs that are better than others.
Songs like "Golden Restless Age" and "Supermarket" do have some qualities that separate them from the rest of the bland album, being relatively smooth and fun. But they still aren't worth a second listen.
While nothing on the album is overly egregious, there is nothing purely interesting about any of the songs on When You See Yourself.