Operation Varsity Blues shares details of college admissions scandal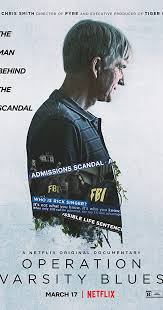 It's been almost two years since Operation Varsity Blues — the codename of the investigation that charged more than 50 people in the largest college admission scandal to be prosecuted by the United States Department of Justice.
This week Netflix released a new documentary titled Operation Varsity Blues: The College Admissions Scandal, covering the full investigation and the resulting aftermath.
It is directed by Chris Smith and features Matthew Modine in the lead role.
The documentary features reenactments of the events involving Rick Singer, the alleged leader in the scandal, and his many conspirators over the course of eight years. Original FBI wiretaps and transcripts are used in these scenes.
Unlike the media coverage at the time of the event, which primarily focused on the entertainment stars who were involved, this documentary takes a broader look at the situation.
Singer allegedly was able to bribe various college officials, coaches, and administrators to get the children of wealthy individuals guaranteed acceptance into some of the nation's biggest colleges. This was all done in exchange for money from the parents, whose ultimate wish was to see their kids go to a prestigious college, undermining the morality of the means used to get them there.
There are kids who applied to these colleges and could have been accepted — but they had their places taken by those who already had an advantage with their wealth and status. The film makes sure to demonstrate this point well by showing the reactions of various kids upon hearing that their college admissions were turned down.
Another highlight of the documentary is that it shows how Singer eventually cooperated with the FBI to set up all of his former clients. As the investigation continues to this day, Singer still remains a free man and has yet to be sentenced.
Overall, Operation Varsity Blues: The College Admissions Scandal does a very good job of providing more insight into the investigation, while making sure to not get too caught up on a single certain aspect. But most importantly, it shows the flawed nature of our current college admission system.