Student athletes describe how COVID has affected them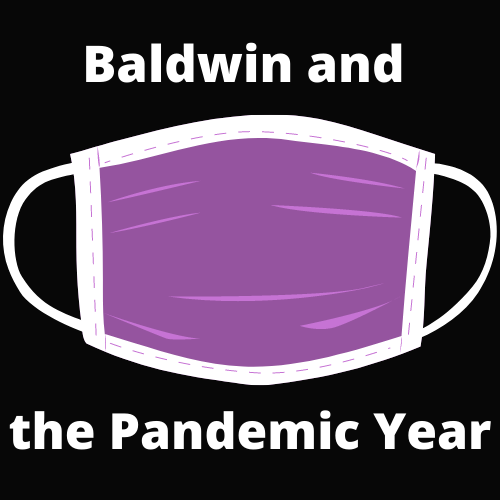 Sophomore baseball player Christian Forgas was preparing for the upcoming season in March 2020 when he received the unexpected news that all games and practices would be put on hold indefinitely due to the outbreak of COVID-19.
"I was very upset and disappointed when we didn't have our season," Forgas said.
When the pandemic shutdown started last March 13, spring sports first were put on hold and then were canceled. This school year, fall and winter sports teams did get to play, but each sport has been affected in a variety of ways.
Starting with the 2020-21 fall sports season, restrictions were put in place throughout all of the seasons to keep athletes and coaches safe. In all sports, masks and temperature checks have become a regular part of practices, games, and transportation. 
The football team had to social distance and wear masks while watching film, working out in the weight room, and standing on the sidelines, sophomore football player Bobby Benton said. 
Even with all the precautions, the team still had to quarantine twice. Several of the team's games were canceled, giving them less opportunity to play. 
"We had to work very hard in a very crammed season," Benton said. 
Similar to the football team, the girls volleyball team spent their time on the bench wearing masks. Although each sport affected by the coronavirus pandemic has different requirements, they can all agree that the changes were challenging, especially for the seniors. 
Senior volleyball player Nina Dongilli said that not being able to do everything they normally would during her senior season was sad. 
"We weren't able to do a lot of things we would without COVID, like our banquet. Even for pictures we had to social distance," Dongilli said. 
Even though there were restrictions, Dongilli said she thought it was going to be more difficult than it was. She was glad the team did not have to quarantine. 
During the winter sports season, the boys ice hockey team had to quarantine once due to direct exposure. 
Sophomore hockey player Brady Zofcin said the biggest change was having to wear masks on the bench and the rink lobbies. 
"I am glad I still get to play," Zofcin said. 
The swim team did not have to quarantine during its season, but masks had to be worn constantly except when the athletes were in the pool. When they entered the pool, their masks had to go next to their water bottles. 
The swimmers knew there was always the chance of the season being put on hold or swimmers being quarantined, as happened with many other sports. 
"Any time we were in the pool, we had to give it our all. You never know what will happen tomorrow," senior Olivia Los said.
Los wanted to be able to have a whole senior swim season, but said she is happy she had the opportunity to participate.
With spring sports being canceled last year as soon as the pandemic began, athletes from those teams are even more excited to have the chance to play their sports this year. 
The baseball team has been wearing masks during their preseason practices. 
"I don't like having to wear masks, but if it means that we can have a season, then I will wear the mask," Forgas said
At first, he thought wearing masks would be hard, but it is easier than he thought. 
Forgas thinks that after missing a season and having to deal with COVID-19 restrictions, the team's record will not be impacted. 
The track team is no different from the other teams, with all of the team's athletes required to wear masks all of the time. 
Senior pole vaulter CJ Lucas said he was not happy about last season getting canceled or having to wear masks this season. 
"I hate it. All of it," Lucas said.