From pop stars to food trucks, basketball coach balances busy life and team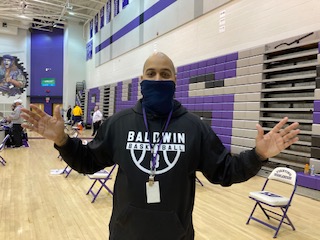 Coaching a high school sports team with title aspirations is a huge commitment, but girls basketball Coach Jamal Woodson is taking on the challenge — while also handling his other responsibilities, including work at a radio station through which he has met Beyoncé, Kanye West, and Wiz Khalifa. 
Besides being a coach, Woodson stays busy working as an entrepreneur.  He is the general manager of WAMO FM, where he oversees the radio station, including sales, the music played, promotions, and everyday operations. 
He is also the owner of SLAAM Basketball, an AAU Basketball program, and runs a nonprofit called SLAAM Cares, where he helps homeless people get shelter and basic necessities.
"I was motivated to start SLAAM Cares because there was a point in my life where I was down real bad. No money, no job, nothing to eat, electricity was shut off, and was three months behind in rent. I was so close to being homeless and felt hopeless," Woodson said. "I remember knowing I would one day get back on my feet, and when I did I would help someone less fortunate." 
Woodson also owns a food truck called the ATU Food Truck, which serves a healthy menu full of options such as turkey burgers, salmon burgers, black bean burgers, chicken Philly cheesesteaks, and chicken tacos. Woodson said he does the cooking and preparations, but also has a staff to help out.
"
He encourages us every day, and although we are not playing as many games as we were hoping to, he reminds us to play and practice every day like it is our last."
— Anna Lucarelli
"The life of a food truck is really interesting. We have a staff, however the staff is never consistent, as I usually like to employ my basketball players"
In addition, Woodson runs a photography and recording studio where he manages three recording artists: Ashley Marina, who was on America's Got Talent; Erica Perri; and Lil Ari. He also runs a construction company.
Woodson said he has had many opportunities through this busy schedule. Working for the station for 19 years has given him the chance to meet many celebrities, including Beyoncé, Kanye West, Wiz Khalifa, Jay Z, A Boogie, Kodak Black, Eminem, Kim Kardashian, and many more.
"I also throw large concerts where I bring the artists in myself at venues like Stage AE and PPG Paints Arena," he said.
Despite taking on so many commitments, Woodson is dedicated to preparing his team.
"I love to be busy, all the time. As busy as I am outside of basketball, Baldwin is my No. 1 priority," he said.  
Woodson's dedication to the team, despite living a busy schedule, has helped them have a successful year, with the girls team floating around the .500 mark.
Stepping into a new coaching position is no easy task, especially during a pandemic, but Woodson has done his best to overcome all of the obstacles thrown his way.
Despite joining the team during a challenging year, Woodson said coming to Baldwin has been a great experience for him.
"The girls and the Baldwin community have made it so easy with this transition as a new coach. The parents and players have been very supportive," he said.
In spite of the pandemic, Woodson tries to keep the team connected outside of the gym by working with players outside of practice and promoting team bonding.  He said he is proud of the team's accomplishments and loves seeing them succeed in all aspects of their lives. 
"I want to support the girls off the court as well as on the court. The coaching staff went to Homecoming to see senior Lexi Bernotas win homecoming queen. That was amazing to watch and see her succeed."  
Woodson came in with big goals for the team, and said he hopes the team can win their section as well as the WPIAL title.  To achieve these goals, Woodson knows it will take a very special group of girls.
 "I feel that we have the right team to obtain our goals and am very confident that it will happen," he said. "This team is simply amazing. We had workouts at 4:30 in the morning in the snow in the Baldwin parking lot and had full attendance. Our practices are very demanding, so it shows me a lot that the girls are "All in". It shows the heart and character of the team."
The girls basketball team has seen many changes throughout the years, playing with three different coaches in just four years, but senior Anna Lucarelli  said the transition hasn't been a problem for the team.
"As a team it is all about adjusting and respecting whoever steps into the coaching position," Lucarelli said. "This prepares us for life because not everything always goes as planned. There are never excuses. You take what you are given and give it your all. A good coach holds their players accountable but strives to help them grow as players and people overall."
Woodson is an experienced coach, holding multiple positions since he was a junior in high school.  He continued coaching through college and served as an assistant coach at Oakland Catholic for seven years.  Woodson also has run his SLAAM Basketball AAU team for the past eight years.
Lucarelli said she appreciates the effort and dedication Woodson puts into the program. 
"Coach Jamal continues to try his absolute best to bring out everyone's highest potential. Coach stands out from many other coaches because he promotes our team," she said. " He makes videos and clips of us playing and having fun with each other, so that when we are older we will be able to look back and remember these times together."
Junior Morgan Altavilla said Woodson has taught the team more than just basketball.
"I have learned that no matter your given situation, you must find a way to get through it," she said. "Our team motto is, 'find a way' — not only in basketball but also in life."
Woodson's dedication helps the team stay together and improve, Altavilla said.
"Coach Jamal will do anything for not only the girls, but also our basketball program," she said. "Coach Jamal is the loudest person in the gym, and is always the most enthusiastic." 
Lucarelli said Woodson's positivity always helps to bring the best out of the team.
"Coach Jamal is extremely positive and always has high energy, so he makes it enjoyable for us," she said. "He encourages us every day, and although we are not playing as many games as we were hoping to, he reminds us to play and practice every day like it is our last."