Trippie Redd explores new sound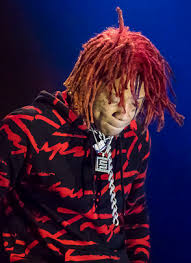 When most people think about Trippie Redd, they think of him as one of the top emo rappers. But on Redd's new album, he breaks away from the emo rap that he is most known for. 
On Neon Sharks vs Pegasus, listeners can see that Redd branches to new styles, such as rock, punk, and love songs. Redd teamed up with Travis Barker to deliver the album, and also had appearances from famous musicians such as Machine Gun Kelly and Blackbear.
On "Dreamer," Trippie Redd expresses the more emotional side of the album. This song is a song that one can listen to when thinking of a significant other. Although the song repeats "You, waiting for you" this one may be a fan favorite. 
The song "Pill Breaker," featuring Blackbear and Machine Gun Kelly, is very chill and the overall message is to not give up. "Sea World," meanwhile, is very loud and is more rock music than a peaceful mood. 
Another song that expresses heavy rock is "Dead Desert," featuring Scarland and ZillaKami. This song is a great way to get pumped up for something like a game or working out. 
Neon Sharks vs Pegasus might be a disappointment to regular listeners. The variety of categories and different vocals makes the album worth listening to, though listeners likely will find themselves listening to the same song over and over, such as "Dreamer."