K-drama True Beauty keeps viewers watching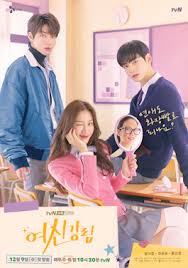 Every fan knows the typical rom-com clichés and tropes — from love triangles and long-lasting friendships to even being bullied and finding love. 
True Beauty is a 16-episode South Korean K-drama based on the webtoon version of True Beauty, but the storyline has many adjustments, making it different. 
The show is based on a girl named Lim Jugyeong (Moon Ga-young) being bullied by her former classmates, who say that her face is "ugly" without makeup. She consumes her time by learning how to apply makeup, and then she transfers to a new high school where her classmates call her pretty and a "goddess," which she has never been called before. 
Lim Jugyeong ends up in a love triangle with Lee Suho (Cha Eun-woo), a cold and good-looking guy, and Han Seo-jun (Hwang In-youp), the bad but down-to-earth type. 
Some people start watching the show to see Cha Eun-woo, a South Korean singer, but end up having second-lead syndrome and fall for Hwang In-youp. 
Fans become engaged with the storyline, but the last episode is rushed and all the characters do not get a happy ending or much of a closure. 
People can watch True Beauty on the streaming services Dramacool, Viki, and Dramahood. 
Overall, True Beauty provides a different perspective on what a person may be going through that others are not aware of, as well as a reminder about forgiveness.