Injury forces Starzynski, hoops team to adapt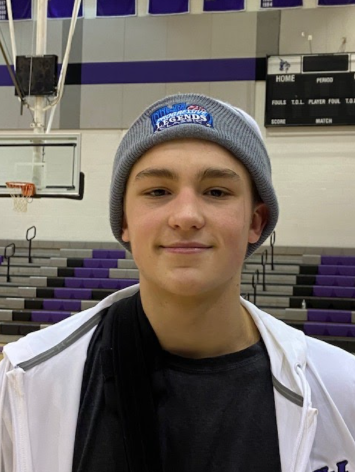 Joey Starzysnki was looking forward to his senior season on the basketball team, but may have to sit out the entire regular season due to a wrist injury.
Starzysnki suffered a fracture wrist after landing awkwardly on his arm after a dunk during a pick-up game.
"I felt it snap as soon as I hit the ground." Starzysnki said. "I went to the emergency room and they told me I had fractured my wrist."
Starzysnki is hopeful that he can return on time if the team makes a playoff run, and may try to play a few games before the playoffs depending on his condition. 
Since Starzysnki was a starter for the team, losing him means that a group of players are being tasked with filling in for his role, junior Jordan Brophy said.
"Joey was an important part of our system, and losing him means losing a great leader on the court," Brophy said.
Sophomore James Wesling agreed, adding that Starzynski is a huge contributor on both sides of the ball.
"I always studied the way he plays and tried to learn as much as possible from him," Wesling said.
While the team deals with finding a solution to losing a starter, Starzysnki is dealing with the difficulty of suffering an injury in his last high school season.
"Getting injured during my last season at the high school has taken a toll on me, but it has made my mentality stronger for when I come back," Starzysnki said.
Starzynski's basketball career began in fourth grade, and he chose to play basketball in part because he wanted to get closer with his classmates. 
"I mainly just chose basketball because I was better at it than anything else, and I wanted to connect with others in my class," Starzysnki said.
Since then, Starzynski has been working on his game nonstop. He knew even from a young age that he wanted to devote a lot of time to it.
"I realized it was the sport I wanted to devote my time to when my coaches started talking to me about basketball on a different level of understanding and comprehension," Starzysnki said.
Starzynski isn't the only one in his family who has been a standout basketball player, as his older brother, Anthony, was a walk-on player for Pitt's basketball team for three years.
"Having my brother play at Pitt has affected my willingness to play and succeed," Starzysnki said. "I feel like if I ever need advice with basketball, I always have someone to ask."
Starzynski hopes to return back to the team to finish his senior season. Regardless of how that works out, his playing days aren't over, as he recently committed to La Roche University.
"I plan on playing basketball at La Roche and studying general studies," Starzysnki said. "I am excited to continue my basketball career, but I still want to finish my senior year at the high school strong."