Winowich, inline hockey team looking for fourth title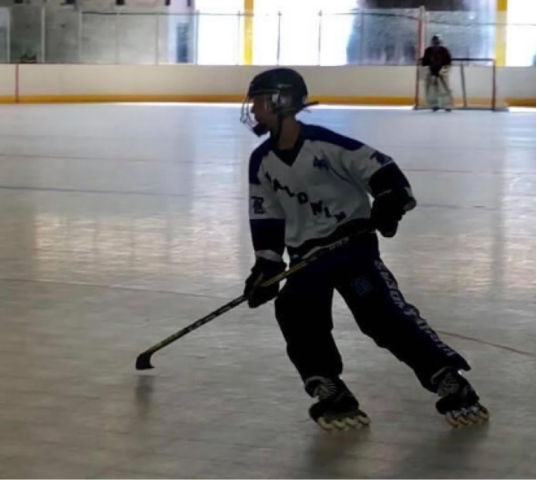 Senior Stevan Winowich has played basketball, baseball, lacrosse, soccer, and ice hockey, but the one that has had the biggest impact on him is inline hockey.
Winowich's passion for hockey started at a young age, when he first started to watch the sport on television. He always looked up to Sidney Crosby and aspired to play like him.  
Today he is in his seventh year of inline hockey, and he thoroughly enjoys the sport and his teammates. 
"My favorite part about the sport is how successful we are as a team," Winowich said. "I always get a great feeling after winning a game." 
Winowich plays defense for the Highlanders. 
"My position is very dependent on others as much as myself," Winowich said. "This has allowed me to work on my own weaknesses and encourage others to do the same for the good of the team. My position has also taught me how to work with others well." 
Senior Zakary Sealey said Winowich inspires the team. 
Winowich is "a great player and role model and it definitely reflects on the team," Sealey said. "He is able to inspire himself, which inspires others to do the same."
The inline team had gotten off to a great start this year, but then the pandemic led to the three-week shutdown for winter sports.
"We had a great winning streak" to open the season, Winowich said. "I understand that the precautions are necessary, but I'm afraid that this may cause some setbacks." 
The inline team is familiar with COVID-19 disruptions. Last season, the Highlanders were set to play in the Pens Cup championship game, but it was cancelled due to the pandemic.
Even with the interruption in their season this year, Winowich is confident that they have the potential to reach the finals again this year.
"I want our team to win our fourth championship in a row," Winowich said. "With our winning streak this season and great team chemistry, I definitely think it's possible." 
Sealey gives Winowich credit for the team's outstanding performance this season. 
"When Stev makes a mistake, he analyzes his own game play, which allows his future mistakes in games to be minimal," Sealey said. "This is a big reason why we've won every game so far, and hopefully it'll put us in the position to win championships too." 
For Winowich, this final championship win would be a major accomplishment. 
"The inline hockey team has won three consecutive championships since my freshman year," Winowich said. "It will be a standout moment if we win this championship, because I will have won every single inline hockey championship during my high school career." 
About the Writer
Lena Barakat, Magazine Editor
Magazine Editor Lena Barakat is a senior and this is her third year on The Purbalite. She likes running with her teammates, cuddling with her cat Harold...