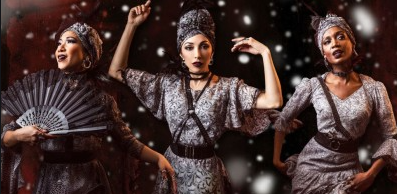 The 15 School Days of Christmas: Hadestown cast stellar on holiday album
If The Fates Allow is the perfect choice of holiday music for theater fans this year. 
The album features a mix of holiday classics in addition to original compositions, and it is marketed as being "a Hadestown holiday album," featuring the vocal talents of the cast of the Broadway musical Hadestown. Most prominent throughout the album are Jewelle Blackman, Yvette Gonzales-Nacer, and Kay Trinidad, who play The Fates in Hadestown. 
The first song on the album, "Thank God It's Christmas," immediately establishes the listener's expectations for the upcoming songs. The reference to a monotheistic God rather than the Greek pantheon present in the musical tells the audience right off the bat that this is less of a Hadestown holiday album, and moreso a holiday album sung by the cast of Hadestown. Specifically, the album is being sung by the actors themselves, not the characters they portray within the show. 
Not only that, but choosing this particular song as the opening to the album seems a deliberate choice. Especially with lyrics like, "Oh, my friends / It's been a long, hard year / But now it's Christmas," the song was tailored for an audience coming out of the hardships of 2020. 
"Come Healing," as expected for a song featuring Patrick Page, is entrancing. Not only do Blackman, Gonzales-Nacer, and Trinidad give a fantastic performance, but Page is given the opportunity to show off a softer aspect of his voice, similar to his performance of "Hey Little Songbird."
"Winter Song" is similarly good, with Eva Noblezada and Reeve Carney supplying the main vocals. The lyrics are deeply relatable for anyone separated from a loved one, especially a romantic partner, this winter due to the pandemic.
Overall, this album is worth a listen for just about anyone. Regardless of whether or not you're a fan of Hadestown or musicals as a whole, it provides a good selection of songs with exceptional vocal performances perfect for the holiday season.