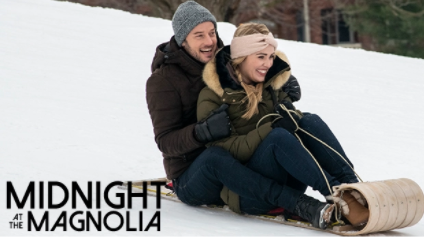 The 15 School Days of Christmas: Magnolia is as predictable as a Hallmark film
The new Netflix original Midnight At The Magnolia has been a hit, but it is as predictable as any Hallmark movie.
This story takes place in Chicago as two childhood best friends, Maggie (Natalie Hall) and Jack (Evan Williams), host a popular radio show that brings them on a journey they would have never expected. 
Jack and Maggie first are told to introduce their partners to their families on New Year's Eve for a special episode of their talk radio show. But when both of their partners unexpectedly break off the relationships, they are forced to trick their families by saying that they have finally decided to date each other. 
The overall outcome of the movie is like every other romantic comedy. There is tragedy, there is love, and there is laughter. It is like every other Christmas romantic comedy. 
The acting throughout the movie is phenomenal, but the lack of background and the predictable plot drags the movie down.
This film is perfect for Hallmark holiday movie fanatics. But those who don't enjoy Hallmark movies won't want to watch it.