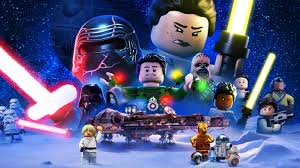 Image via starwars.com
The 15 School Days of Christmas: `Star Wars Lego' holiday special disappoints
There are two things that almost every Star Wars fan can agree on: The old Lego holiday special, made in the 1970s, is bad, and the movie The Rise of Skywalker was a mess. So it comes as no surprise that combining the two would result in a bad Star Wars adventure.
The Lego Star Wars Holiday Special, from writer David Shayne and director Ken Cunningham, is mostly a simple hop through Lucasfilm history. But in the process, the movie manages to ruin one of the only great things that happened in The Rise of Skywalker: Rey's yellow lightsaber.
The creation of the yellow lightsaber signified a new direction for the Jedi and the Force. It was a great moment in a movie that was bad, combining Star Wars history with Rey's own journey to offer hope for the future of the Star Wars movie world.
Though Rey does use a yellow lightsaber in this holiday special, the issue is that the lightsaber looks like any old lightsaber — although it should be clearly distinctive and different because Rey was the last of the Jedi and their final hope.
It's disappointing that in the first time the lightsaber shows up since The Rise of Skywalker, it looks like any old lightsaber, just yellow. Even Kylo Ren gets his signature lightsaber.
The best part of the Lego Star Wars Holiday Special, though, is the crew of villains. Through some time travel, Kylo, Emperor Palpatine, and Darth Vader end up in the same room together. The interactions between them quickly devolve into a comedy skit.
Overall this special just is not satisfying enough to be considered one of the great Star Wars titles.