Altavilla's drive makes her a leader on the court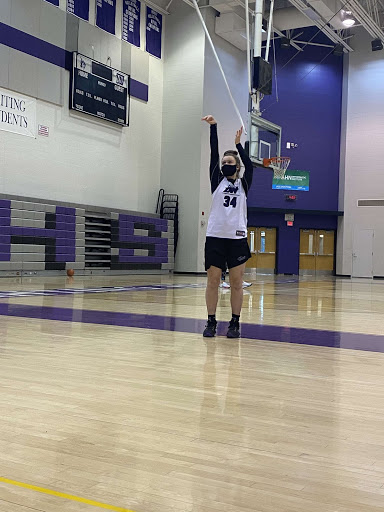 Junior Morgan Altavilla never imagined that pickup games of basketball with her brothers in her back yard would evolve into such a strong passion and love for the game. 
Altavilla has always looked up to her older brothers, so when she watched their basketball games, it was a given that she would want to play. Altavilla's mom also inspired her to keep pushing and put in the work.
"My mom is my biggest motivator, because she is the strongest person and never shows any weakness," Altavilla said. 
Altavilla began playing in fourth grade, but it wasn't until middle school that she developed a deeper connection with the game. 
"Eighth grade was when I really realized that I loved basketball and I wanted to keep playing it, but also that I had the capability to get better," Altavilla said. 
Friends have also been a big motivation for Altavilla to continue playing. Throughout the years Altivalla has formed deep bonds with her teammates. 
Junior Emiley Hillgartner has been playing with Altavilla since fourth grade. 
"Morgan has always been there for me on and off the court," Hillgartner said. 
One of Altavilla's favorite memories from basketball involves her bond with her teammates. After the girls varsity team won the first round of playoffs last year, the bus ride home was something Altavilla would never forget. 
"Whenever we won the first round of playoffs, the bus ride home was just so fun and energetic. We were all so happy. We went in with confidence, so once we actually accomplished the task at hand, I was just so proud of us and myself for pulling through," Altavilla said. 
Throughout her years of basketball, Altavilla has learned life lessons that she continues to make use of each day. 
"I've learned a lot of lessons, like communication. You have to communicate on the court, but also in the real world," Altavilla said. 
Teammate Anna Lucarelli, a senior, can attest to Altavilla's leadership skills. 
"Morgan is a great teammate to have. She has a competitive edge, communicates well on the court, and puts in the time all on her own, developing her skills to get better. She works insanely hard and always gives 100 percent effort," Lucarelli said. 
Altavilla sees challenges as new opportunities to learn and grow, so she tries her hardest to keep that same mindset on the court. 
"She is a very coachable player and accepts feedback from everyone, which sets the example for the rest of the team," Lucarelli said. 
Altavilla also plays for an AAU team, Western PA Bruins, which she sees as an opportunity to expand on her skills.  
"I think that playing with a variety of girls and a variety of coaches helps me to develop my skills. It also has taught me to not shy away from trying new things," Altavilla said. 
Altavilla plans to continue to play in college.