Karate Kid spinoff series pleases viewers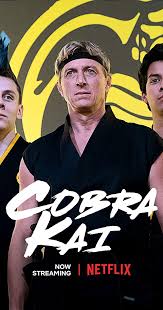 Karate Kid fans across the country were elated when Netflix announced the arrival of the TV series Cobra Kai. Netflix bought the series from YouTube Originals over the past summer, and fans can be expecting a third season at the start of the new year.
The series features cast members of the original Karate Kid movies, such as teenage rivals Daniel LaRusso and Johnny Lawrence. Cobra Kai also honors the late Pat Morita, who played the beloved Mr. Miyagi.
Cobra Kai's plot unfolds with an aged Johnny Lawrence, who has fallen far from the greatness of his early martial arts career. After seeing Daniel LaRusso's success as the owner of "LaRusso Auto," Lawrence reopens the "Cobra Kai" dojo by himself. 
After enrolling his first and only student, Miguel, Lawrence's school skyrockets in popularity. The success of "Cobra Kai" reawakens LaRusso's passion for karate and a sense of justice for debunking the teachings of "Cobra Kai." 
LaRusso opens up Mr. Miyagi's old dojo and starts his own rival school. The two compete in a constant battle to determine if karate is meant for being a merciless opponent or for the use of self-defense.
The series also entertains the return of the merciless sensei John Kreese, who assumes his role as an antagonist.
The series features the anticipated amount of action, fights, and an infamous love triangle. Cobra Kai is an excellent addition to Netflix's original shows and the Karate Kid family.