Baldwin students, like Americans everywhere, keep checking for election updates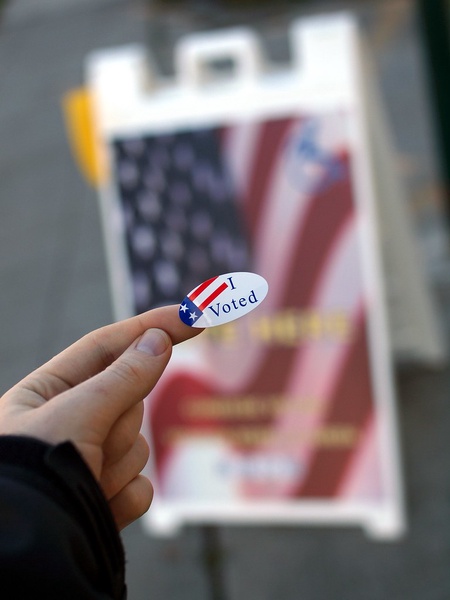 Like many people across the United States, senior Layne Dunsey has been regularly checking her phone today for updates on the presidential election. 
"I was checking my phone pretty constantly, especially for swing states," Dunsey, a Biden supporter, said. "I still am."
Starting with Tuesday's election night coverage and continuing into a Wednesday where there was no school, many Baldwin students have been paying close attention throughout the long election process.
Sophomore Dylan Wyse, a Trump supporter, said he stayed up until 2:30 a.m. on the night of the election, watching results slowly come in.
He said he's "not surprised" by the lack of a conclusive winner yet, as it was already expected that the votes would take extra time to count. 
Senior Rylie Hogle, a Biden supporter who spent her day off on Wednesday watching results trickle in, agreed.
"I'm honestly expecting it to take days," Hogle said. "But I thought the early voting and mail-ins would mostly be for Biden, so I figured that the votes counted at the end would lessen the gaps in places where Trump was leading."
Junior Morgan Woods, a Biden supporter, found the drama of the razor-thin margins and the back-and-forth battles to be captivating.
"It is interesting how much time and drama this is making" Woods said. "Throughout the entire day, my family and I were checking in on multiple news stations to see updated voting results." 
Dunsey also wasn't surprised that no winner had been called, as states such as Pennsylvania are allowing ballots to be counted days after the election. But she said she fears Trump still having a likely pathway to victory if he wins Pennsylvania.
"As a member of the LGBT community, many of us are fearing for the loss of our rights, due to our current president, along with his recent Supreme Court confirmation," Dunsey said.  "If Trump is re-elected, I think this fear could become a reality."
"
Respect each others' opinions."
— Danielle Moore
Yet Dunsey believes that Biden will win in the end, and that he is the best option for a divided country. 
Junior Kayli Woods, a Trump supporter, is hoping that the president pulls through with a win.
"I think that it will be a very close call in the election, but I'm hoping Trump will win it all," Woods said.
Senior Steven Sullivan, a Trump supporter, said he knew the race would be tight, and that it would involve some controversy.
"I knew there would be a close election and controversy," Sullivan said. "I think (the country) would be more united if there was no violence due to the election and if there were no accusations or actions of voting fraud."
Trump supporter Danielle Moore, a sophomore, said that no matter the outcome, people should not turn against one another due to their political views.
"Respect each others' opinions," Moore said. 
Senior Elena Zandier, who supports Biden, believes the best way forward for the country is to have politicians avoid continued partisanship and instead, work together, no matter if Trump or Biden wins.
"I think the way America could become more united is by accepting the outcome of the election, and be optimistic about what's to come in the future," she said.
Even if one's preferred candidate loses, Wyse said, it should not be the end of the world. 
"No matter what happens, we'll be okay," Wyse said. "We'll survive."
Staff writers Lindsay Bonetti, Victoria Di Cesare, Brooke Scanlon, Alli Schroeder, Ethan Spozarski, Isabel Swanson, Ava Weidensall, and Audrey Work contributed to this report.