Popular sub returns as full-time history teacher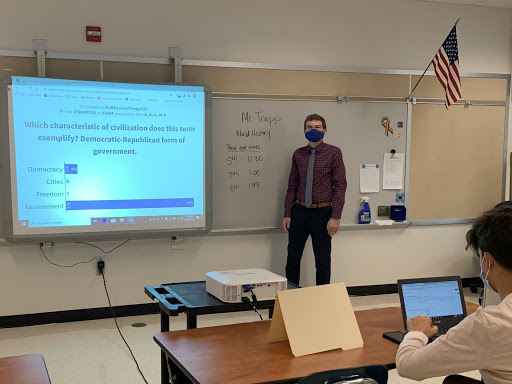 Nearly two years ago, popular substitute teacher Thomas Trapp left to take a job at another school. This year he has returned to Baldwin as a full-time social studies teacher.
After leaving Baldwin as a sub, Trapp had been teaching history classes at Passport Academy Charter School in downtown Pittsburgh. The school serves students ages 17 to 21 who were previously unable to finish high school but chose to re-enroll in school and earn their diploma.
Trapp is excited to be back teaching at Baldwin.
"I definitely missed the students and staff of Baldwin, all of whom are a special bunch," Trapp said. 
This year he is teaching tenth grade world history, a subject he is enthusiastic about. 
"The history of the world is so broad and it is impossible to know it entirely," Trapp said. "As a life-long learner, I am looking forward to learning more about the history of the world alongside my students."
Trapp graduated from the University of Pittsburgh at Greensburg with a bachelor's degree in political science and is currently working towards his master's degree in education at Penn State's Global Campus.
"The best part of teaching is helping students grow and become empathetic, civically engaged, and successful members of society," Trapp said. 
Students and staff alike are happy to have Trapp back.
"I was on the interview panel, and I was very impressed by his knowledge and preparation, which he has continued to show me while starting to teach world history," social studies teacher Katie Temme said.  
What made Trapp stand out when he was a sub, staff and students said, was his ability to easily connect with students. 
"
Once the pandemic is over, we will have learned many important, unforgettable lessons."
— Thomas Trapp
"I think Mr. Trapp is very personable with his students, and students are appreciative of having someone in the building who will talk to them," Temme said.
Senior Olivia Allen agreed. 
"He was really fun to talk to, and I liked that he let us talk to each other while we worked," Allen said.
While the school year looks quite different due to the COVID-19 pandemic, Trapp remains optimistic about what lies ahead. 
"In general, I am looking forward to overcoming the challenges associated with teaching during a pandemic," Trapp said. "Once the pandemic is over, we will have learned many important, unforgettable lessons."
Trapp already has an advantage when it comes to teaching in this pandemic and its unprecedented education model: He used Canvas when teaching at his last school.
While the rest of the school goes through growing pains with learning how to use the new platform, Trapp has been helpful in giving assistance and providing new ideas, Temme said. 
"Overall, he's been great to work with so far," Temme said.