The Highlander returns, with original dance moves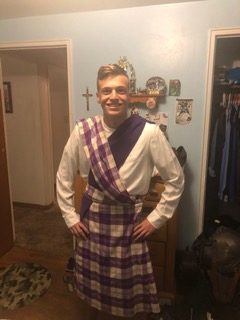 Senior Dylan Farabaugh's creative hip hop moves have impressed and entertained students for years.  Now he will get the opportunity to show off his spirit and energy once again, this time as Baldwin's new Highlander mascot.
"I remember one year at the Glow Dance, I was dancing with my friend and did hip hop moves no one even knew.  It was a lot of fun how when I started dancing, everyone loved it," Farabaugh said.
Senior class officers wanted to bring back the Highlander this year, after two years without a school mascot. Officers used social media platforms and Google Classroom to find interested students. After undergoing an interview process, Farabaugh was selected to represent Baldwin's student body. 
The big reveal was shared through social media when officers posted a TikTok announcing their selection. Senior Taylor Mincin was involved in the interview process and the selection of Farabaugh.
"We picked Dylan because he has a lot of school spirit and was super prepared for his interview," she said. "He blew us away with how excited he was just to be interviewing. He made the perfect candidate."
Mincin said she hopes the mascot will be a good way to spread positivity in the school community.
"Dylan has a lot of school spirit on his own. If he's able to hype everyone up and get everyone excited, there may be more participation," she said.
Mascots have the difficult job of supporting athletes and performing for the crowd all at once, but Farabaugh, who is a self-taught dancer, said he is excited.
"I bring a lot of cheerful energy to the school and I want to reflect that to our sports teams," he said. "It also seems like a fun thing to do. I get to wear the outfit and interact with people, which is something you can't always do."
Farabaugh has always been a fan of Baldwin athletics. He has attended football and basketball games, and said he always tries to support classmates and friends.
Baldwin Athletic Coordinator John Saras said he is excited that the Highlander is back.
"I am looking forward to seeing how we can incorporate the Highlander into our game day experiences," he says, " A good Highlander will exhibit characteristics of being tough, strong-willed, and the pride of the purple and white."
There has been a lot of uncertainty about athletic events this fall, with social distancing, crowd regulations, and the recent quarantine of the football team. Saras said, however, that whenever the Highlanders get to play their first home football game, Farabaugh will be there to support them.
Despite the uncertain start of the sports season, Farabaugh is optimistic about making the most out of the year.
"I've really been keeping my head up and thinking positive thoughts," he said. "When you keep your head up, you pull those negative thoughts down, because everything will always work out in the end when you have a positive mindset."