What to Binge Watch: Sink your teeth into `Vampire Diaries'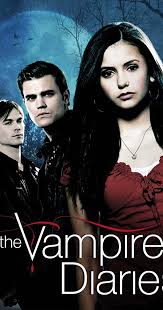 Who doesn't like a good romance series? There are certainly plenty of them available for streaming on Netflix. 
One of the most successful romance series on TV, The Vampire Diaries, runs the supernatural romance world, with the standard complicated love triangles, reoccurring breakups, and unexpected deaths. 
The Vampire Diaries is produced by The CW Network, which is famous for successful shows with many seasons and long episodes, which are perfect for free time during a summer packed with restrictions. 
The network is in a prosperous deal with Netflix that allows subscribers to watch (and re-watch) their favorite shows. The Vampire Diaries is available for streaming along with other popular CW shows, such as The Flash, Riverdale, and All American.
The Vampire Diaries takes place in Mystic Falls, Virginia, a town with a dark past concerning the supernatural. The show follows a normal high schooler, Elena Gilbert, as she and her friends get sucked into the world of vampires, witches, werewolves, and hybrids. 
After being introduced to charming vampire Stefan Salvatore, Elena falls under the protection of Stefan and his smooth and cynical brother, Damon. Both brothers fall in love with Elena, creating the show's main love triangle. 
Elena and her friends, with the help of supernatural allies, unite to protect their hometown and the world as they know it. Throughout the show's eight seasons, Elena uncovers how special she really is and how her life plays a significant part in all things supernatural. 
In this series there is never a boring episode, with the constant introduction of new characters and the resurrection of previously dead ones.
The Vampire Diaries proved to be so popular that creators made two spin-off shows, The Originals and Legacies, both of which feature different original Vampire Diaries' characters. 
The Originals branches off of season four of Vampire Diaries into its own show focusing on the three original vampire siblings who terrorized the town of Mystic Falls in The Vampire Diaries seasons two and three.
Legacies, however, started airing after The Vampire Diaries and continues the story of both The Originals and The Vampire Diaries characters' children. The gifted kids attend The Salvatore School for the Young and the Gifted, where they carry on the legacies of their legendary parents.
It is never too late to catch up on or rewatch lengthy but engaging classics like The Vampire Diaries, especially during self-isolation.
About the Contributor
Brooke Scanlon, Multimedia Editor
Multimedia Editor Brooke Scanlon is a junior and is in her third year on staff. She normally can be found at taekwondo, singing, or at Chick-fil-A. If...