The countdown is on for `The 100′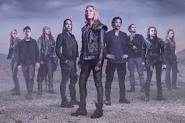 The final countdown is on for The 100, a sci-fi drama TV series, which is back for its seventh and last season.
The show takes place in the far future, after a nuclear war has destroyed civilization on Earth, and the survivors have traveled to space to live for the next 97 years. After the group faces the threat of overpopulation, the leaders decide to send a group of 100 juvenile delinquents back to Earth, hoping it is now survivable.
The show focuses on the challenges the 100 face on the ground, along with the challenges on the Ark, the space station where the survivors live. Each season showcases a different conflict that brings about the challenges of survival.
It is expected that this new season will have similar plot ideas, such as the fight for survival, but because the show is known to have many twists there is the question of how it will end. Many fans will be hoping for a happy ending for their favorite characters, but it may be hard to predict.
The first six seasons are available to be streamed on Netflix, while season seven is currently airing every Wednesday on the CW.
About the Contributor
Abbey Stark, Staff Writer
Abbey Stark is a sophomore and a first-year staff member. You can find her eating a Hello Bistro salad while watching Netflix with her two beautiful angel...