What to Binge Watch: "Schitt's Creek" is perfect for these times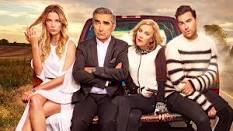 Sometimes it feels like regular life was ripped from the hands of the general population when quarantine began on March 13. A show that mirrors that feeling and conveys perseverance in tough times is Schitt's Creek.
The Roses, a family of millionaire socialites, lose all of their money and possessions to the government. The only thing they are allowed to keep is the town of Schitt's Creek, which father Johnny Rose had bought for his son, David, as a joke years prior. 
The family spends the rest of the show trying to find a way out of the town and back to their regular lives, just like citizens during quarantine are trying to get back to theirs as well.
This dry, witty comedy is the perfect show to binge if you're feeling down on your luck. The characters' struggles and triumphs show the audience that it is possible to find the good in any situation.
The episodes follow each family member's struggle of the week cleanly and concisely. Each is only 20 minutes long, so the episodes do not feel like they drag on for too long.
Overall, this is a comedy that the whole family can enjoy, focused on how sometimes a bad situation can bring people together.
About the Contributor
Erin Fader, Design Editor
Erin Fader is a senior and the design editor for the Purbalite. You can usually find her either cheering on the Baldwin Highlanders or sitting in a cocoon...