Review: Oso's album offers more than that TikTok song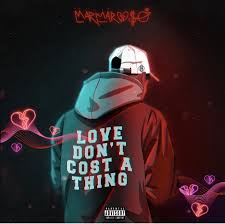 Marmar Oso is one of a few artists who have benefited greatly from their music being frequently featured in TikToks, but his song "Ruthless," which many teens may recognize, is not the end of his discography by far.
The Sacramento native's most recent album, Love Don't Cost A Thing, features many songs that feature plenty of references to relationships and problems associated with them. 
Although his song "Ruthless" was primarily used in a humorous context on TikTok, it is really meant to be a sad song detailing the heartbreak of being cheated on, and his album contains songs regarding similar ideas.
The album is diverse, however, as some songs, such as "Dream Girl," and "Love Songs," are much more upbeat and positive in tone, while others like "Ain't What You Want," are much less positive and speak about the heartbreak and more negative emotions associated with love.
Thus, the album contains plenty of low-key songs that relate to heartbreak, but can also be listened to casually due to the excellent production and appealing sound of all of the songs.
MarMar's excellent singing combines with the relatively upbeat and bouncy beats to create a unique sound that is incredibly easy to listen to, whether fans care about the lyrics or not.
This means that really paying attention to the lyrics instead of simply listening to the beat can change the way the whole album impacts listeners.
The songs on this album depart from the recognizable sad piano beat that many associate with MarMar, and instead lean more towards a R&B sound. As an example, MarMar puts his own spin on the memorable R&B song "Let Me Love You," by Mario.
This track is an excellent showcase of MarMar's talent to anyone who remembers the original track, as he does an excellent job of capturing the same feeling that listeners felt when listening to Mario's version.
It can sometimes be hard for artists to depart from their first hit and make a real name for themselves, but MarMar Oso's new album is a step in the right direction, and fans of his should be hopeful for his future in the music industry.
About the Contributor
Mason Hurley, Staff Writer
Mason Hurley is a junior and second-year staff writer. He always has a clean pair of Jordans, Nikes, Adidas, or Yeezys on, and may be seen in bright yellow...