Opinion: We need a president who can help us heal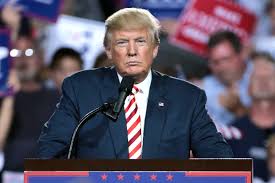 As America mourns the heinous killing of George Floyd and erupts in historic protests, while simultaneously nursing a pandemic and record-high unemployment, saying that the nation is hurting would be an understatement. We are all suffering.
We watch as our cities burst into flames, tear gas fills the air, and blaring sirens become familiar background noise. We desperately search for a sense of hope, an offer of consolation, and a remedy for this painful wound.  We look to the institutions to which we gave our individual sovereignty for support and unity. 
In the wake of the Sept. 11 terrorist attacks, my parents recalled partisan political issues being tabled while the terrified nation figured out how to emerge with strength and dignity. While before they did not support many of President George W. Bush's policies, they say that his unifying appeal brought them renewed faith after the attack.
"This is a day when all Americans from every walk of life unite in our resolve for justice and peace," Bush said in his address to the nation on the night of the tragedy. 
But where is compassionate, unifying rhetoric like this today, which we need and should expect from our president?
"
Trump has proven that, as a leader, he possesses the ability to create nothing but chaos. "
For the days after the sickening video emerged of Floyd being killed, Donald Trump expressed sorrow and disdain about Floyd's death, yet continued his combative tweeting, calling protesters "thugs" and "lowlifes & scum," and blaming Democratic leadership. 
He made no promises that the nation would come together, or would work to mend a problem that should be uncontroversial: the clear, systemic racism and police brutality burdening our society. Instead, he encouraged the National Guard to start shooting at the rioters. 
Trump has proven that, as a leader, he possesses the ability to create nothing but chaos. 
After receiving backlash for hiding away inside a bunker before addressing the nation directly — while we all saw our hometowns being burned — Trump finally decided to give a speech at the Rose Garden on Monday.
But not once did he say the words "Black Lives Matter." Not once did he discuss a plan to reform the ills of our society, which have been very clearly illustrated by the deaths of George Floyd, Ahmaud Arbery, Breonna Taylor, and countless others. 
Not once did he call for legislation to guarantee equality and civil liberties to everyone of every race. 
He focused instead on activating the military to "dominate" the streets and save businesses — not black lives. After all, nothing says peace and tranquillity like big military tanks rolling into the capital, threatening to unleash destruction on citizens. And he did inappropriately think it was the proper time to promise continued Second Amendment rights.
As much as many Americans want to see the flames settle and peaceful change to surmount today's challenges, Trump instead just continuously reignites the fire with gasoline.
He claimed to be an "ally of peaceful protests" in his address, but simultaneously ordered the police to unleash tear gas, flashbangs, and rubber bullets on a nonviolent protest — just so he could walk across the street to pose for a propaganda photo holding up a Bible in front of a partially burned church. 
He has lost sight of why people are protesting and has instead turned how they are protesting into a re-election campaign scheme. He has made this clear as he is still consistently tweeting about "voting red" in the election now.
He has proven he is not a leader when it is unequivocally necessary to rebound from our nation's current turmoil. We have become the laughing stock of the world. 
We need a president who does not turn unrest into reality TV. We need a president who is willing to listen to those who have been in pain for the last 400 years. We need a president who puts our nation's pressing emergencies over personal agendas.
We need a president who helps us heal.