Review:`Space Force' fails to achieve liftoff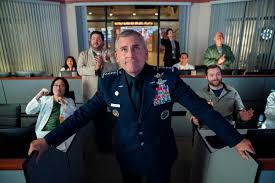 Actor Steve Carell and writer Greg Daniels have reunited to make a television comedy show. Unfortunately for their fans, it is not The Office. 
Carell, along with a star-studded cast, make up the newest Netflix original comedy, Space Force. It follows Mark Naird (Carell) through his attempts to establish the new Space Force branch of the U.S. armed forces.
Despite many people attempting to draw comparisons to The Office, the show makes a point of not being the same as NBC's smash hit mockumentary.
Unfortunately, it is difficult to connect to the characters, and the plot seems far-fetched.
The Space Force is an actual new branch of the military, but it will not be at the stage that it has reached in the show for several years. That, along with jokes that do not particularly hit their mark, leave a lot to be desired for the new show.
The main problem is that it does not give the viewer any compelling reason to continue watching.
Many successful shows have gone on from rough starts to become classics, and only time will tell if the case is the same with Space Force.
About the Contributor
Colton Brain, Staff Writer
Colton is a junior and a second-year staff writer. He is a big sports fan and especially loves football and baseball. He loves to give his takes on the...