`Magnolias' makes for a sweet viewing experience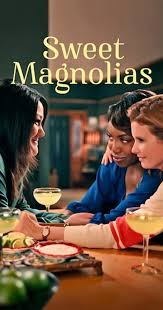 The series Sweet Magnolias first debuted on Netflix in May and quickly made its way up to being the fourth-most watched program on Netflix in the country. 
Based on the Sweet Magnolias books by Sherryl Woods, the show revolves around three lifelong friends whose lives are much more complicated than they'd care to admit. However, no matter the hardships, relationships, and family troubles, they are always there for each other. 
Their friendship builds into a business venture that displays all three of their unique talents and abilities. The business ends up bringing all three families even closer together and adds another element to their already complex lives. 
The small town drama also adds to the stress of their lives when even bigger secrets are revealed and rumors are spread. 
The show's episodes are a little lengthy, but once viewers start watching, it's hard to stop.
The show's feel-good family dynamic between the friends is enough to draw anyone in. Overall, the show is great for anyone who likes romance and feel-good dramas. Sweet Magnolias has already been renewed for a second season on Netflix, with even more love and drama to come.