Opinion: George Floyd's death part of a pattern that must be addressed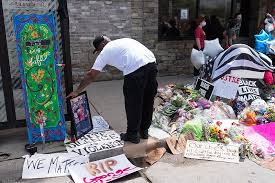 On May 25, George Floyd, a 46-year-old African American man, died after having his neck pinned to the ground by police officer Derek Chauvin, a 44-year-old white man, in Minneapolis. 
Around 8 p.m., an employee from Cup Foods filed a report saying that Floyd had used a counterfeit $20 bill to buy a pack of cigarettes. Soon two police officers arrived, later followed by additional officers.
Video footage from a Washington Post story shows Floyd being handcuffed after refusing to get out of his car, but then complying as he is sat against a building. He then walks across the street with officers to a police car, but falls to the ground instead of getting in.
The officers tried to get Floyd in the car, but then they pulled him to the ground. Chauvin then kneeled on Floyd's neck for more than eight minutes while Floyd kept pleading, "I can't breathe." One officer replied, "You're talking just fine."
Other officers at the scene asked Chauvin if they should roll Floyd on his side, but Chauvin said that was not necessary. 
Floyd stopped moving five minutes into Chauvin kneeling on his neck, yet Chauvin stayed in the position for an extra three minutes. 
Floyd was pronounced dead at the Hennepin County Medical Center. 
On May 26, Chauvin was fired from his position with the Minneapolis Police Department, and on May 29, Chauvin was charged with third-degree murder.
George Floyd is just one of the many fallen victims of police brutality.
Brutality against people of color has been an ongoing threat for centuries in America. Chauvin did not need to take such extreme measures with Floyd, as Floyd was already on the ground. There are many different ways that Chauvin could have restrained Floyd, like lying him on his side, or he simply could have listened to Floyd's pleas. 
I feel that not all police officers have ill intentions. But all officers benefit from a racially insensitive justice system.
Police officers are here to maintain security within society, and they often put their own lives on the line.
But they do benefit from the justice system in that they are not always charged for their crimes.
On July 17, 2014, in New York City, Eric Garner, a 27-year-old African American man, died after being placed in a chokehold by officer Daniel Pantaleo.
Garner was accused of selling cigarettes individually, which is illegal, but there was no need for such drastic measures when dealing with a slight offense.
Following Garner's death, prosecutors dropped the case altogether, failing to bring justice to Garner's family and the community of people of color. Pantaleo benefitted from the justice system, getting to walk away.
Violence against people of color needs to be addressed for the safety of all Americans.
America's citizens and lives will not be fully protected until black lives matter.