Essential Listening: Don't pass on the best solo album by a Beatle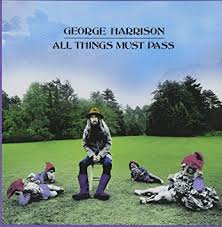 Tired of your Spotify playlists? The Purbalite is here to help, with the new Essential Listening feature.
Everyone knows the Beatles, but people are less aware of the solo work they did after the band broke up. This is particularly true for George Harrison, who rarely got the spotlight in the Beatles, since Paul McCartney and John Lennon wrote most of the band's songs.
Still, one of the most popular Beatles songs is "Here Comes the Sun," which was written by Harrison. And Harrison's solo album All Things Must Pass is by far the best solo album by a former Beatle.
The album's best song is "My Sweet Lord." It was written for the Hindu god Krishna and calls for the abolishment of sectarianism, as the word hallelujah can be heard throughout the song. It aims to unite people amongst different religions, as the Beatles were all about love and acceptance.
But that is just the beginning. All Things Must Pass has 23 songs in total. It is a great listen for any Beatles lover or any rock junkie. It is filled with inspirational messages and overall just good instrumentals.