Despite casting changes, this series remains a `Dynasty'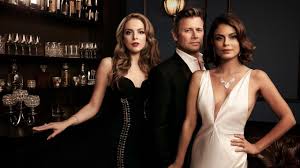 It has been a long and uneventful few months for the millions of people who are stuck at home trying to find something to do. But the third season of Dynasty has given many people the entertainment they have needed to make it through this month. 
The season premiere returned with its iconic glamorous and dramatic flair by wasting no time addressing all of the shocking cliffhangers from the previous season. 
The show immediately starts with the Carrinngton family facing the fallout from the season two finale. Fallon (Elizabeth Gillies) is forced to deal with her vindictive brother and her secrets, which have recently been brought to light. 
The show also does a nice job by giving some of the more minor characters, like Sammy Jo, Kirby, and Anders, more screen time. This is exciting for many viewers because these characters have been entertaining to watch since the beginning of the show. 
There were some aspects that made the show disappointing. For example, two of the main characters, Alexis and Cristal Carrington, now are portrayed by different actors. Although their acting is good, both characters feel different and awkward. 
It is also important to note that there were originally 22 episodes ordered for this season, but due to the production being shut down following the COVID-19 pandemic, the episode number was reduced to 20. This means that the last two episodes will most likely be the first two episodes of the fourth season. 
Although the season was not completed, the production leaves the audience excited and entertained thanks to a homage to The Hangover that sends the characters to Vegas for a bachelorette party filled with a night of madness. 
Overall, even with the season not being fully completed, Dynasty leaves viewers excited and filled with anticipation for season four.
About the Contributor
Astrid Senko, Multimedia Editor
Astrid Senko is a second year staff writer and a first year multimedia editor. She is a drum major and a full time band nerd. When she is not on the field...