Column: Coronavirus closures hit juniors hard also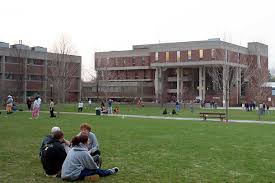 While the coronavirus has undoubtedly had a very unfortunate effect on the end of the year for seniors, many of them at least had their post-high school plans in place. But the pandemic has left many juniors stranded and filled with uncertainty about how to proceed with exploring their next path. 
Junior year is arguably the most critical when it comes to the college application process, from standardized testing to campus visits and extracurriculars.
All SATs and ACTs have been postponed until the fall. This will make it much more difficult for the Class of 2021 to take the tests multiple times to improve their scores. The already nerve-wracking high-stakes tests now have even higher stakes. One shot potentially decides our future.
"
It's tough to determine your comfort level on a college campus just by looking at pictures."
Colleges understand this, though. Everyone across the country is in the same situation, so the schools will have to adjust accordingly. Standardized testing should be weighted less in the admissions process, especially if the College Board attempts to shift the SATs online, as it did for the AP exams. If students are only getting one chance at a competitive score, it's foolish to think — after the college admissions scandal — that cheating would not skyrocket with the exams online.
Some university systems have decided to make the SAT optional or not accept scores at all. Yet going "optional" does not truly solve anything. It still puts students at a disadvantage if they choose not to submit scores because they could not perform to their best ability the first time they took the test. The students who pay to have private tutors and then score well on their only test attempt will now have an even greater edge. 
Also, most colleges and universities have canceled their on-campus tours and summer programs. It's tough to determine your comfort level on a college campus just by looking at pictures. Bigger, more well-known schools will probably benefit from this, as smaller ones rely more heavily on college fairs and personal visits, most of which have been canceled, to expose kids to their school.

Application deadlines should be pushed back for the Class of 2021 to accommodate the setbacks being faced, which would give more time for testing, extracurriculars, and visits.
The future is still uncertain, and there is no way the modified admissions process will be perfect, but colleges seem to be trying their best.