Korean baseball draws in MLB fans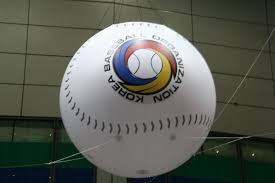 Serious baseball fans may be waking up early or staying up later these days.
That's because, while MLB is trying to make a comeback, fans are watching Korean baseball as a substitute.
The Korea Baseball Organization is the only live baseball action that is available to sports fans on TV right now. ESPN is broadcasting several games each week, with start times ranging from 1 to 5:30 a.m.
Though many of the rules for Korean baseball are the same, there are a couple differences between watching the KBO and MLB. Among those that stand out the most are that Korea has cheerleaders cheering the whole game and also a guy singing on top of the dugout. 
When a team in Korea has a pitcher who is American pitch for them, they cannot have any other Americans pitch in the game.  Also, American players generally get paid more than Korean players in the KBO because of the higher level of play they grew up with.
The KBO, which is the highest level of baseball in South Korea, has 10 teams. Mostly the teams are named after the companies that own them.
One team that will stand out to American viewers is the Samsung Lions, because of the Samsung phone. Samsung is in last place with only six wins. The team with the most championships is the Kia Tigers, with 11 championships since kbo started in 1982. 
Hopefully, the MLB will come back soon. But MLB fans who give Korean baseball a try will find that, although it is a little different, it is fun to watch.