Review: `On My Block' offers a new kind of `coming of age' story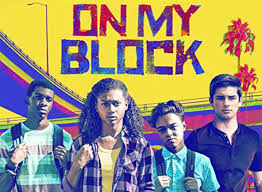 Throughout the late '90s and early 2000s, "coming of age" movies like Clueless and 10 Things I Hate About You gained popularity through their appeal to the youthful lifestyle. However, more recently, these "coming of age" stories are focusing more on real-life scenarios, like battling addiction or gang violence. 
While the Netflix show On My Block follows a group of friends going into their freshman year at high school, the story shows more depth than similar series, with the characters revealing their personal obstacles as they grow up in a poor area of South Central Los Angeles.
One of the main characters, Cesar, struggles with the threat to join his older brother's gang, "Los Santos", as his friends try to divert Cesar from that fate.
On My Block also offers comedy through two of the friends, Ruby and Jamal, who are Cesar's support and also ease up the tension regarding Cesar's hardships. 
Overall, the show seems to balance comedy and serious issues, boosting audience interest in the show's dynamics. 
It's a combination that at first doesn't really seem to click, but by the end of the season, On My Block does feel like a world unto itself, a universe with its own rules and logic.