Review: `Never' adds diverse cast to typical `glow up' teen series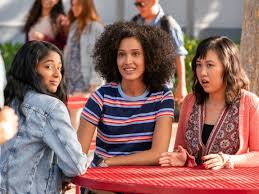 The early 2010s consisted of countless rom-coms about a girl in high school who has a glow up and gets the boy she likes. The new Netflix show Never Have I Ever follows a similar story. 
Devi, played by newcomer Maitreyi Ramakrishnan, is a first-generation Indian-American teenager whose goal is to make her and her nerdy friends popular during their sophomore year of high school. 
She had not experienced a normal freshman year of high school as her father passed away and she lost the ability to walk for three months. 
While she takes on the challenge of increasing her popularity during sophomore year, she ends up becoming friends with one of the hottest and most popular guys in school, Paxton. While doing so, she experiences flashbacks and visions of her father as well as constantly going against her mother's more traditional Indian beliefs. 
Although sometimes a little cringy and cheesy at times, this show consists of a very diverse cast and features some relatable high school experiences. It's an interesting story about a girl learning about herself while trying to balance her home and school life. 
About the Contributor
Grace Esposito, News Editor
Grace Esposito is a senior news editor in her third year on staff. She can usually be found either procrastinating on her homework or taking long walks...