Review: Action fans will love`Extraction'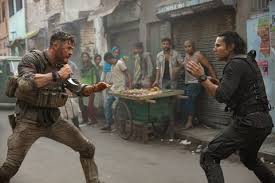 With movie theaters being closed down, Netflix has been giving movie fans big hits like Extraction.
Extraction is a fun action movie set in India and Bangladesh. The movie follows mercenary Tyler Rake, who is hired to rescue and extract the kidnapped son of an Indian crime lord. The boy had been abducted by a rival in Bangladesh. Rake and the boy have to travel through the country and away from assassins to get to safety.
The mercenary is played by Chris Hemsworth, who brings star power to the film. Relative newcomers Rudhraksh Jaiswal and Golshifteh Farahani also do fantastic work.
Hemsworth supposedly did most of his own action scenes, and they are the best part of the movie. This includes one amazing sequence that was done using a 12-minute continuous shot. Usually in Netflix movies the action scenes look cheap, but Netflix had a big budget for this movie and it shows. 
Action movie fans looking for something fun to watch during these tough times should check out Extraction.