A sports hero shows he's only human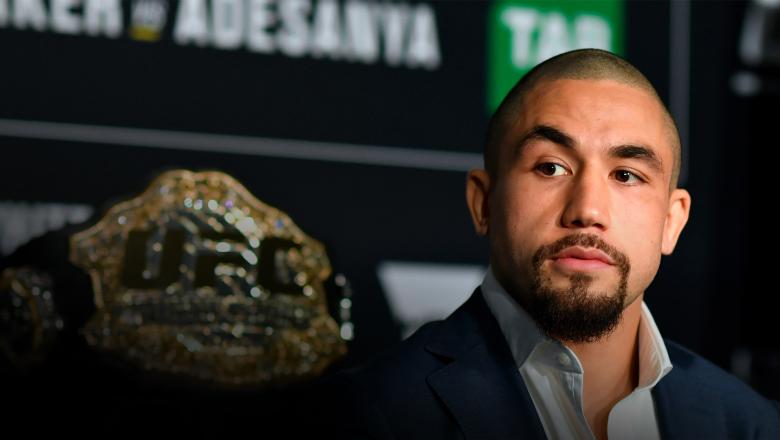 Athletes and figures in sports are often seen as superheroes to those who follow their careers. These athletes don't seem human because of the amazing feats they achieve, so it can often be a shock when our favorite sports stars experience the same kinds of problems as us. For former UFC middleweight champion Robert Whittaker, it took a long time to realize these problems, but his realization is going to lead to a refreshing career revival.
After several months away from the public eye and several rumors floating around, the former champ has come forward about what's kept him away from the sport.
During a training session on Christmas Day, Whittaker just stopped and asked himself what he was doing. While most people were spending time with their families, Whittaker was preparing for a fight, and he just couldn't find the motivation to keep going. The Australian mixed martial artist said he felt completely burned out and had no desire to fight. 
The fight game can be exhausting, and fighters never stop working. If fighters are not 100 percent committed to their craft, they could be seriously hurt, and the work it takes to perform at the highest level is excruciating.
Whittaker has been fighting since he was 18 years old, and was put on the fast track to success after winning The Ultimate Fighter in 2012. Whittaker won the interim middleweight title in 2017, and he became the undisputed champion after Georges St. Pierre vacated the belt and retired. 
Since then Whittaker has only had two fights that were not canceled because of injury or illness. During his reign as the champ, there were two interim title bouts, as Whittaker would time and time again fall victim to  injuries. A collapsed bowel, abdominal hernia, chickenpox, and a staph infection kept the champ constantly sidelined over a two-year period. 
Whittaker lost his title to Israel Adesanya in October. Although he was in peak physical shape, mentally he was not prepared. The need to fight grew, but the desire to fight shrunk. 
Whittaker knew he needed a break and a change to his regimen. For 11 years, "The Reaper" had trained seven days a week, several times a day, while also balancing raising a family in that time span. He finally reached the point where he just did not feel like going to work. 
The difficult life that comes with being a professional fighter is often overlooked, and it may be the most difficult life to live in professional sports. These athletes spend eight weeks away at training camps in preparation for a fight, several times a year, where they're away from their families, where injuries can occur, and where the end result is getting punched in the face. 
If fighters feel burned out, it can become a very dangerous game. Physically the sport is brutal, and mentally the lifestyle can be exhausting.
Several fighters have spoken out on the difficulties of their sport and the struggle to find a balance with a healthy lifestyle alongside it. 
Another former middleweight champion, Luke Rockhold, has sympathized with Whittaker, saying that those on the outside don't understand what goes into being a fighter. He also acknowledged that once a fighter gets to the top, it can be hard to find the hunger to continue. 
Former fighter Laura Sanko has been appreciative of Whittaker speaking out on mental health, saying that MMA is the the most demanding sport physically, emotionally, and psychologically. 
The humanity that Whittaker has shown is refreshing and incredibly relatable. Everyone has had those days where they don't want to go into work. Everyone knows that giving all of yourself in whatever you pursue can be incredibly hard.
The timetable now for Whittaker is to possibly fight Darren Till in August, assuming the UFC gets back to its normal schedule. 
The old saying is that you can't keep a good man down, and all of these recent misfortunes will likely be just a small footnote in the career of Robert Whittaker. He is absolutely a proven fighter in the UFC, and was champion for a reason. 
It could be only a matter of time before fans in Australia are once again rejoicing for their native son.
About the Contributor
Jaiman White, Multimedia Editor
Multimedia Editor Jaiman White is a senior and this is his third year on The Purbalite staff. Jaiman can be seen in his natural habitat, in the back corner...