Lil Uzi Vert returns to the top of the `mumble rap' field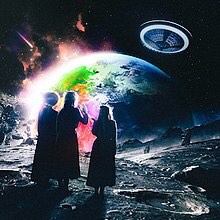 It's been two years too long, but Lil Uzi Vert's new Eternal Atake puts him back on top of the rap game.
Uzi has won many modern mumble rap fans with his flow and lyrics, and Eternal Atake is no different.
Uzi has had the world waiting for his new album. Many of the songs on the album are pretty typical of Uzi's previous work in terms of the beat and lyrics. This has led to criticism that every song sounds the same.
However, "Baby Pluto" and "Pop" are songs that stand out above others on the album. Uzi has a very distinct flow and these songs encapsulate that.
"Lo Mein" is something newer listeners have never heard before from Uzi. It is obvious from the start that it is Uzi himself and it does portray a new side of his thoughts about society, which fans have never seen before.
However, "I'm Sorry" falls short of expectations for Uzi, and it could have been cut from the album without any questions asked.
Uzi has a high popularity in modern rap and teen culture, and Eternal Atake embraces that.