Dance team adds new moves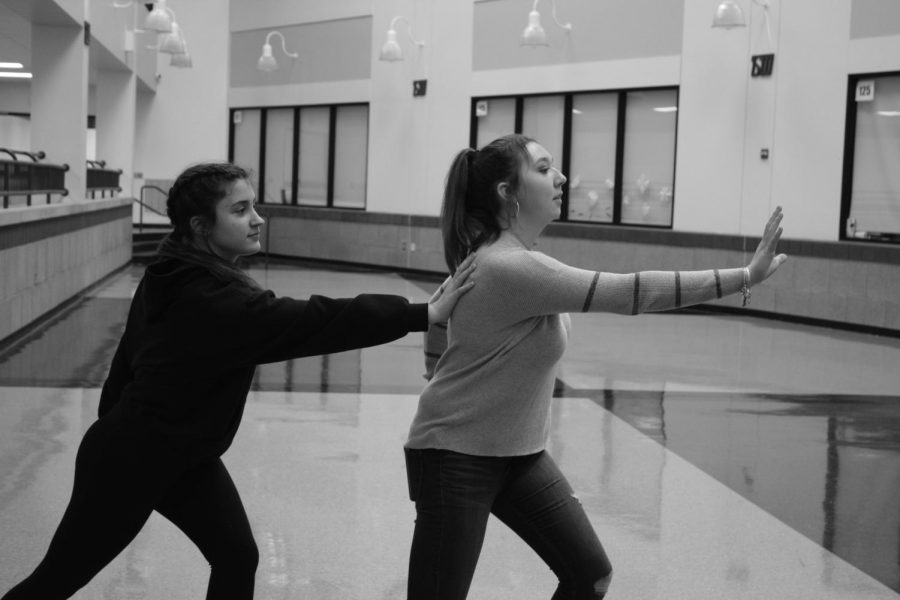 Between teaching young children dance routines and capturing first place at the year's first competition, Baldwin's dance team already has had a busy season.
The team hosted its first youth camp this year, a new fundraiser where children in preschool through fifth grade were invited to learn from the high school girls. The program proved to be very popular: While the team initially expected 20 or 30 kids to sign up, about 80 children enrolled.
Baldwin's dancers taught the campers a combo dance and performed it with the kids during halftime of a basketball game.
Sophomore Abby Rodgers was excited to work with the kids during the program.
"We've seen a lot other other schools do it, and we were inspired to start our own this year," Rodgers said.
Managing and instructing 80 students was no easy feat, but overall Rodgers said the participants were just excited to learn from them.
"Some of the kids were shy at first," she said. "When we first got there we played freeze dance, but no one was dancing. But then by the end of the camp everyone had new friends."
The high school dance team is coming off a short but successful season last year when it competed in one competition and took first place. They kicked off this year's competition season with a win in mid-January to continue the team's success.
Sponsor Sara Nairn is proud of how the team has been working to improve during this season.
"I hope we can continue our winning streak," she said. "We definitely set a high standard, but there is always room to grow."
The dancers have improved the routines that they perform, Rodgers said. The team has two dances: One that is used for competitions and one that is performed during the halftime show of home basketball games.
Rodgers said she is excited for their new competition choreography, which includes more skills and difficulty than last year's routine.
"We got a lot of positive critiques at the competition saying that we needed harder skills," she said.
The team is led by senior captains Savannah Starr and Bailey Golvash. Starr, who started the team last year, said the team is excited to attend more competitions and perform at home boys basketball games.
Starr said the team has bonded since last season and appreciates the team mentality that has formed over time.
"We're definitely becoming more of a team this year," she said.
Rodgers agreed that the team has grown.
"We've definitely learned how to work together more," she said. "We've really learned how to rely on each other as a team."
About the Contributors
Elizabeth Perston, Features Editor
Elizabeth Perston is a features editor and third-year writer on the Purbalite. When she's not browsing Pinterest, she can be found thrift shopping and...
Cassie Snyder, Magazine Editor
Cassie Snyder is a senior and a Magazine editor for the Purbalite. She participates in the color guard and school musical. She is usually found either...