Library introduces new tool for student and teacher use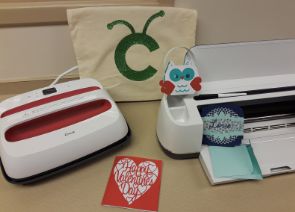 The library now has a new tool for creative minds who have an idea that they want to bring to life.
The new Cricut Maker is capable of cutting hundreds of materials quickly and accurately, and these materials include vinyl, iron-on material, paper, mat board, and even leather. 
Library media specialist Brigetta Del Re explained that the Cricut maker operates through a laptop in the library with a program for designing the desired item.
"The laptop next to the Cricut Maker has the Cricut Design Space program, which is where you can design whatever it is you would like to make," Del Re said. "Then, the Cricut can cut a wide variety of materials into the desired design, and can even etch the designs into wood."
The machine comes with an iron-like device that can be used to apply the iron-on designs to other fabrics.
Although the school has access to a vinyl cutter and an engraving machine, those machines are almost exclusive to the industrial arts wing, and students need to take specific courses to readily access them.
Del Re thinks that the Cricut will make it a lot easier for students and teachers to create all sorts of crafts without needing to have an in-depth knowledge of how to use some of the machines.
"The Cricut machine will do comparable work to the other machines, but doesn't require a sophisticated knowledge of how to operate it," Del Re said. "It is designed for crafters to make crafts, and can be used for bulletin board letters or various other displays."
Del Re hopes that teachers will use the Cricut to create crafts for classes and personal life.
"I hope that teachers in the art and interior design classes will use the machine, and some teachers have even expressed an interest in using the Cricut Maker for their personal lives, which is acceptable," Del Re said.
Del Re is excited to see how the Cricut Maker is used, and challenged teachers to get creative with it.
"I think a lot of teachers could come up with unique and original things to do with it, and I want some of our teachers to put on their creative thinking caps on and create some very special things," Del Re said.
About the Writer
Mason Hurley, Staff Writer
Mason Hurley is a junior and second-year staff writer. He always has a clean pair of Jordans, Nikes, Adidas, or Yeezys on, and may be seen in bright yellow...